Loraas Disposal: Finding an effective approach to cutting costs and boosting uptime in organics
Doppstadt 3060-K high-torque, slow-speed shredder takes wood processing to next level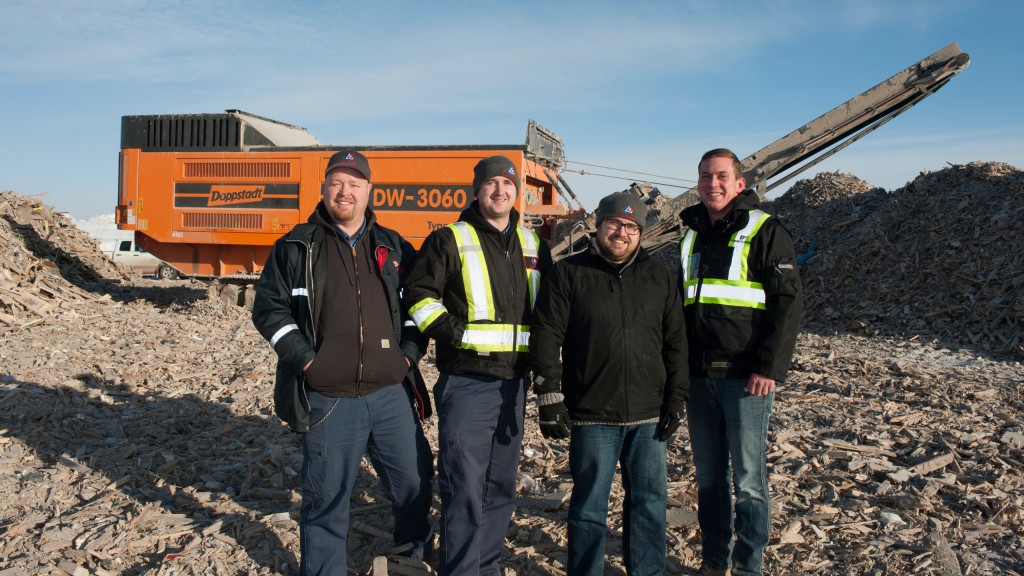 Loraas Disposal is Saskatchewan's largest privately-owned waste transfer and recycling company. The company established itself in 1965 when founder and owner, Bruce Loraas, would come home from his day job, hop in a garbage truck, and trek around the city cleaning out bins. What started as one man's entrepreneurial grit grew into Saskatchewan's leading waste management company with over 200 employees.
Loraas currently processes around 130,000 tonnes in their landfill each year. Since maintaining landfill airspace is critical for the survival of their business, Loraas makes every effort to compost, reuse, or recycle whatever material they receive. With wood, that means shredding it and either composting the product or using it as a cover for the landfill. By utilizing the product and not treating it like waste, Loraas not only saves airspace and money, but also promotes environmental conservation.
The Challenge
As Saskatchewan's leader in waste management, Loraas receives an overwhelming amount of waste every day. Before consulting with Frontline Machinery, a B.C.-based distributor of Doppstadt shredders, screens and other equipment, as well as a range of equipment from various manufacturers, Loraas used a high-speed grinder to process the wood they were receiving. According to the company, this grinder broke down nearly daily due to the volume and contamination of the wood it was processing.
"The wood Loraas receives isn't clean—it contains steel and other contaminants that placed an intense strain on our high-speed grinder," said Derek Stevens, Landfill Division Manager at Loraas Disposal. "It was nothing wrong with it as a machine. But, it's just not built to handle, say chunks of I-beam that can be contaminating our wood pile."
In other words, the machine wasn't faulty, it just wasn't made to handle the material that Loraas was managing. Due to the need for daily maintenance, it was taking two days to go through piles that should've taken one day to process, and their business was suffering for it.
They needed a machine that was tough, durable, and surpassed the capabilities of their high-speed grinder. With a new machine, they would be able to excel in their business and create an end product that wouldn't pollute the environment.
The Process
"When we first got in contact with Loraas they were still considering all their options and thinking about toughing it out a few more years with their current machine," explained Bobby Corbin, Frontline's technical sales representative in Alberta, Saskatchewan and Manitoba. "But that didn't stop us. We could clearly see how much Loraas' process would benefit from a new machine." Corbin worked alongside Loraas to discover their existing process and challenges, and helped them see how Frontline could offer a more efficient, cost effective alternative.
Taking Loraas' needs and concerns into consideration, Frontline determined that a high torque, slow speed shredder would be the machine that would get the job done. The machine recommended was the Doppstadt 3060-K. According to Frontline, the Doppstadt 3060-K is an extremely reliable and tough shredder. It's highly resistant to contaminants like steel and rock, practically eliminating the need for pre-sorting waste. Plus, its single shaft design and Mercedes-Benz diesel motor are capable of handling materials that are nearly impossible to shred. On top of that, the 3060-K would be far more fuel efficient than their previous grinder, consuming only 40% of the fuel they had previously consumed.
"But, we still wanted to show them the Doppstadt in action so they could see what they were getting into," said Corbin. "We flew the Loraas team out to Vancouver to see the machine in person. It was important to us that they not only see the Doppstadt at work but see it shredding similar or more contaminated material than they would shred at their landfill. After seeing the resilience of the Doppstadt, regardless of the product we put in it, Loraas was convinced. They signed the papers and had the Doppstadt on their site in no time."
The Result
It didn't take long for Loraas to see the Doppstadt machine's effects on their operations. Its Mercedes-Benz diesel motor has been able to deliver impressive engine power (360 kW / 490 HP), while using conservative amounts of fuel. This has given Loraas the ability to continue shredding without worrying about the fuel cost.
An additional perk has been the ability to save money by trading in their high-speed grinder. "We were also able to offer them excellent trade in value for their used machine," said Frontline President Daryl Todd.
However, the biggest payoff for Loraas has been the ability to meet their production goals. Piles they never thought they would get a handle on are now disappearing thanks to the Doppstadt 3060-K.
"We're moving so quickly that now we can even start thinking about moving onto other sites that we're operating to chip wood there," explained Lorass' Derek Stevens. He adds that with very few breakdowns and little maintenance needed, the Doppstadt 3060-K has completely revitalized their ability to efficiently process wood. "It's been a complete night and day difference in switching to the new machine," Stevens said.

"When we're able to supply a company with a machine that fits their needs and boosts their business we're happy, but forging a relationship that lasts past the transaction is always our goal," said Frontline's Daryl Todd, who adds that with Loraas, a relationship grew quickly. "For such a large company, we found them to be a very open-minded, with the ability to entrust their employees with making key decisions, and act quickly once the data pointed to a better process and machine. Since Loraas has started using their new Doppstadt machine our relationship has only grown."
Stevens points out that at Loraas they also value building relationships. He says even after the sale when they had made their payment, he could phone for help and talk to a person who could help. "I can use their first name, we know each other on a first-name basis," he said.
"We're glad we've had the opportunity to develop first-name-basis relationships not only with Loraas Disposal but with most of the customers we work with," added Todd. "This way your team will never be working with a stranger."

Frontline Machinery is a Western Canadian Dealer for Doppstadt Equipment based out of Chilliwack, BC. This family-owned operation specializes in mobile equipment for the aggregate, forestry, biomass and soil industries. Frontline serves BC, Alberta, Saskatchewan, Manitoba and is currently expanding into Ontario, with local representatives.