Bandit Industries offering knife sharpening for any hand-fed, whole-tree chipper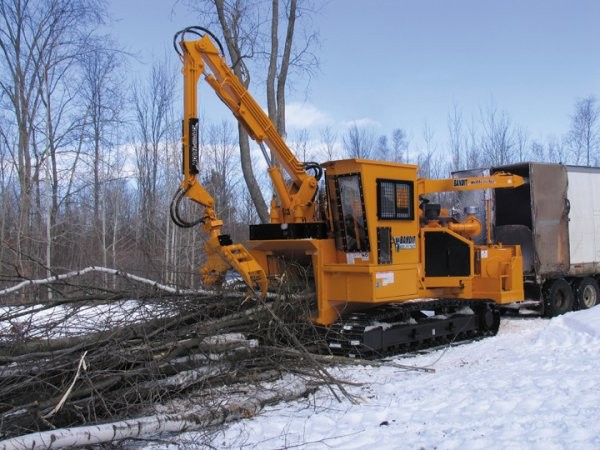 Bandit Industries recently announced a new premium knife sharpening service for hand-fed and whole tree chipper knives. Bandit says the service covers most major chipper brands and knives, and in the event knives cannot be sharpened, customers can conveniently purchase replacement knives without the added hassle and downtime of contacting other companies or placing new orders.
Bandit's sharpening service is meant to provide quick turnaround time, competitive pricing, and unmatched customer service throughout the process. "Bandit continues to be the manufacturer that focuses on lowering operating expenses, not just for Bandit owners, but for all chipping professionals," said Mark DiSalvo, Bandit Industries knife and wear parts manager.
"Our exclusive partnership with Zenith Cutter Co. last year was a big step in that direction, and now our sharpening service for any knife brand allows us to be a convenient, one-stop shop for anyone running a chipper."
Bandit says their premium sharpening process begins with a thorough cleaning and inspection to check for any damage that could render the knife unsuitable for sharpening, including a spray process to help detect cracks. Rockwell hardness testing is done to ensure knife edges aren't being machined into softer steel. A precision wet grinding system is then used to machine the knives, maintaining the proper temper and cutting angle with edges receiving an 80% grind unless otherwise specified. This is done to increase overall knife life while not affecting chipping performance. Once the process is complete, knives are re-inspected and gauged to estimate their remaining lifespan. This information is notated on the form, packaged with the knives and sent to the customer. Pricing for this service is a flat-rate 90 cents per inch.
"By choosing Bandit to service your chipper knives, you gain almost 30 years of specialized factory knowledge and experience from those who know the importance of proper knife sharpening and maintenance," said DiSalvo.
"Companies running Bandit chippers will love the convenience of having their sales, parts, service, and knife maintenance all under the same roof, but the convenience doesn't stop with Bandit owners. Knife maintenance is vital for any chipper, and our partnership with Zenith combined with on-site knife sharpening lets us offer that convenience to anyone with a chipper. We've already had great feedback on this new program and we're excited to be serving so many new customers."
Contact Bandit Industries Knife Sharpening Service at
1-888-322-6348. or visit www.banditchippers.com