Specialist in equipment technology now represents Beka-Lube in Quebec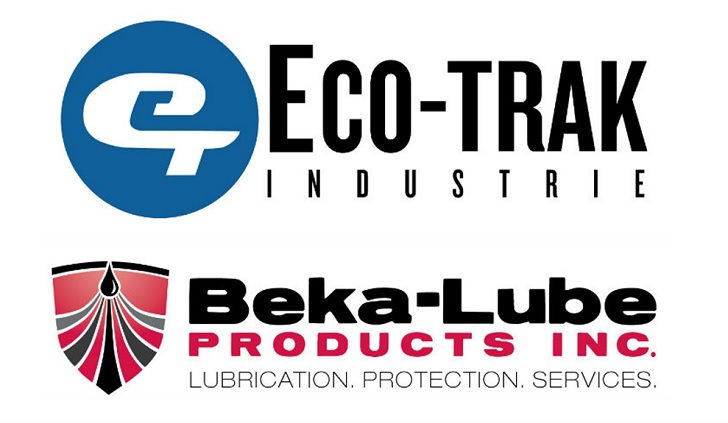 Construction fleets throughout Quebec know Eco-Trak Industrie Inc. as an innovator and leader in home-grown technologies for improved productivity. Now, the firm has stepped beyond its proprietary devices for the first time, to become Beka-Lube Products Inc.'s autolube dealer in Quebec.
The owner of Eco-Trak, Clément Gauvin, explains that his goal in representing BEKA products is to add value for his large customer base. "We have been successful with our line of equipment accessories that we engineered here in Quebec and we are calling on construction companies throughout the province," says Gauvin. "We were looking for additional complimentary products that would be valuable to customers when they are purchasing a new piece of equipment. Automatic lubrication fits into those needs and opportunities. The BEKA autolube system is a German-made precision product, so we were confident in the quality."
Founded in 2008, Eco-Trak is based near the city of Quebec, in Donnacona, and maintains three sales offices in the province. The firm offers three product lines developed by their in-house engineering team:
A bucket scale, used to capture load weights on wheel loaders.
A range-limiting device, installed to define danger zones in the work area for digging equipment.
A 2D digging system, which measures and displays the depth of an excavation in real time.
More from Industry News
Single-Ram and II-Ram High-Capacity Balers
At Machinex, we've been designing sorting systems for over 35 years, so we know how essential it is for MRF operators to have a baler they can trust and not worry about its operational reliability. This is why we design and manufacture reliable single-ram and II-ram high-capacity balers to specifically help optimize their operations.
Watch the video of our expert who presents the main features of Machinex balers delivering these important benefits:
Easy & accessible maintenance
Reduced maintenance & bale handling costs
Energy savings
Optimal bale density
For C&D recyclers, waste haulers, demolition contractors and landfills, there is a growing opportunity to profit from rethinking processes. Although every operation is different, by streamlining the front end of the C&D operation processes with purpose-built technologies, recyclers can tap into new end markets, accommodate higher material volumes, stay ahead of regulatory restrictions, increase recovery rates and add commodity revenue, while decreasing labor and other costs.
Download the new eBook to learn about:
Finding opportunities in the alternative to landfilling C&D
How facilities can increase their profits from C&D
Using the right C&D processing technology in the right locations