​How Enviro Blue is remaking the C&D Transfer Station
Toronto recyclers working to build the "Four Seasons Hotel" of transfer stations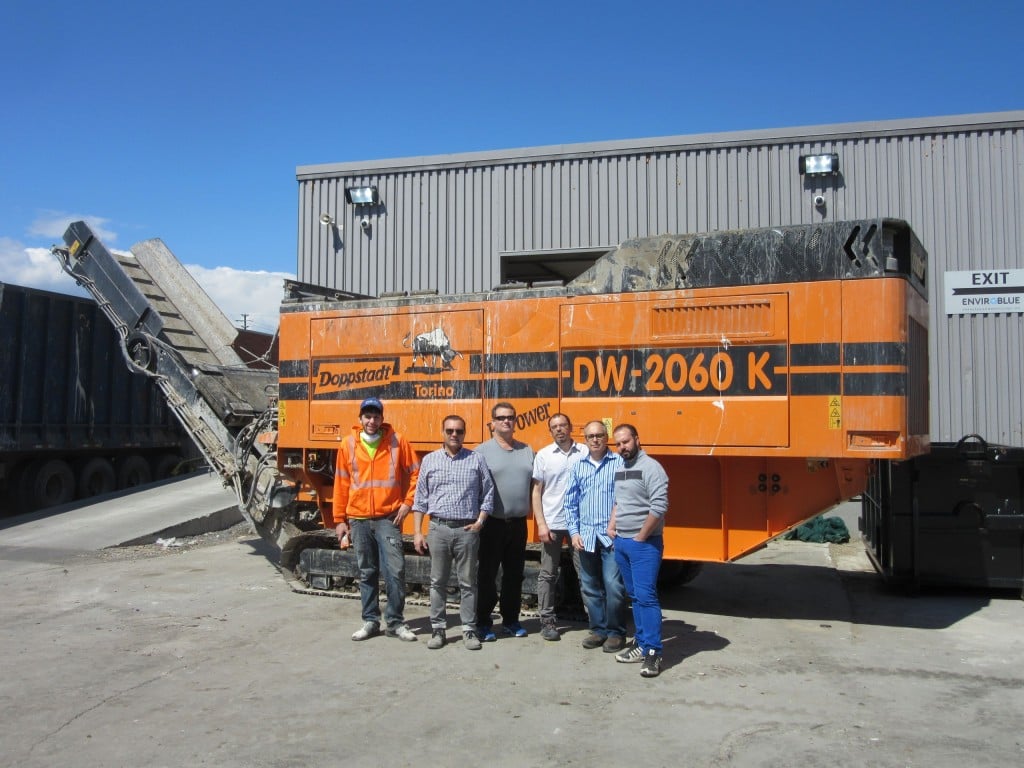 In 2011, after conducting extensive industry research, Joseph Kazutas made the decision to get into the construction waste recovery business full time.

"I started in construction with my father when I was 17," Kazutas says. "I studied the waste industry quite a bit. A big part of construction is waste and it was something we always had to deal with. I couldn't help but think there had to be a better way."
Kazutas, who is based near Toronto, began with the launch of ZipBinz in 2012, offering a unique process for customers who rent disposal bins.
"With ZipBinz we focus on the customer experience, making it easy to price, easy to choose, easy to schedule and take delivery and arrange pickup," he says. "Our goal was to take away all the confusion and replace it with ease and clarity. I think we have done that well."
Once he was up and running with his ZipBinz business, it didn't take long for Kazutas to recognize that he was now collecting an enormous amount of construction industry waste. The opportunity to get into the transfer segment of the industry had become too tempting to resist.
So he applied for and received a permit to open a new transfer station in the Toronto market. Along with his brother Paul, Kazutas was determined to dramatically change the customer experience in the waste transfer business – to overhaul the transfer station experience. This is a commitment the Kazutas brothers demonstrated by hiring Barry Weinberg to serve as their general manager. With a background in luxury retail and customer service, Barry is not your typical construction or waste industry GM – which is precisely what they were looking for.
Built on the concepts of extreme customer service, lean-type cost controls and a luxury-brand perspective, Enviro Blue Transfer and Recycling was founded in 2014, with a site located near Toronto.
"To be different, we really needed to change the paradigm," explains Weinberg. "This industry is like any other in that there are customers and they want to be treated as best as they can. We needed to accommodate and recognize who our customers are, and treat them with a level of service and support that far exceeds what they would expect.
"Every truck that comes through here is treated respectfully from the time they hit the scale to the time they leave. We even installed two scales to be mindful of their time and make their experience great."
Bringing the operation up to speed
Another important component of the Enviro Blue business model is, of course, running an efficient operation. Investment in the right equipment was key to realizing this goal. Not that Kazutas won't admit to having had some trial-and-error experiences and lessons learned along the way.
"We were getting roll-off bins dumping goods here, a majority of which was C&D. What was coming out was furniture, large lumber, trees, stumps and other big bulky items," he explains. "The problem was that we were trying to pick through it and we didn't have much time to load our outgoing trucks heading to the landfill, and our transfer weights were just not as good as they could be. The whole process was pinched at that point."
Joseph and Paul Kazutas connected with Paul Mullan of Ecoverse to explore the equipment solutions that would help streamline the sorting, processing and loading of material in their exit stream. Mullan recognized that a primary shedder would offer Enviro Blue numerous benefits, and helped them build a business case for the investment.
"We're smart enough to know what we don't know," Kazutas admits. "Working with Paul Mullan was enormously helpful. He really held our hands through the process and explained the details of why a shredder would be right for us."
Mullan recommended a Doppstadt SW 2060K BioPower model, which is uniquely optimized to handle extra bulky, C&D-type material.
"We immediately recognized the advantage in volume reduction," continues Kazutas. "We pay one fee for a truck to make a trip from our site to the landfill, and the more we can get into that truck for each trip lowers our costs. It's that simple."
With an average volume reduction of 20 to 25 percent, it does not take complicated math to calculate the benefits of volume reduction. Kazutas started to see additional advantages as well.
"Because we weren't trying to manually fit as much into each truck as we could, we cut our load times by 75 percent, which means we were burning less fuel in the loader and using less labour, with less wear on the equipment. Those savings can be calculated for sure."
When Mullan recommended the addition of a magnet on the discharge belt, the opportunity to capture additional revenue contributed even more to the cost benefits of their investment.
"The price of metals isn't anything to get excited about right now," adds Kazutas. "But it's still capturing something that we were previously getting nothing for. It was pretty amazing to see how much metal we were losing to the landfill."
Enviro Blue is still a very new business. The novel way in which the company conducts its business is the outcome of a vision and plan that both Joseph and Paul Kazutas, with help from Paul Mullan, have successfully communicated and implemented.
"We have a lot of respect for this industry, and the vision we want is to be the Four Seasons Hotel of transfer stations," says Weinberg. "That can't happen unless all our team here understands what that means and translates that back into the way we treat everyone who makes contact with this business."
Joeseph Kazutas concurs. "From the people we hire to the design of our facility, we are unique and different and are creating this business to be retail competitive. So far, we're very encouraged with the feedback we've received from the market."
This article originally appeared in the September, 2016 edition of Recycling Product News, Volume 24, Number 6.
Company info
Related products