Eaton GH100 and GH101 hoses for high-percentage biodiesel blend and high-temperature oil applications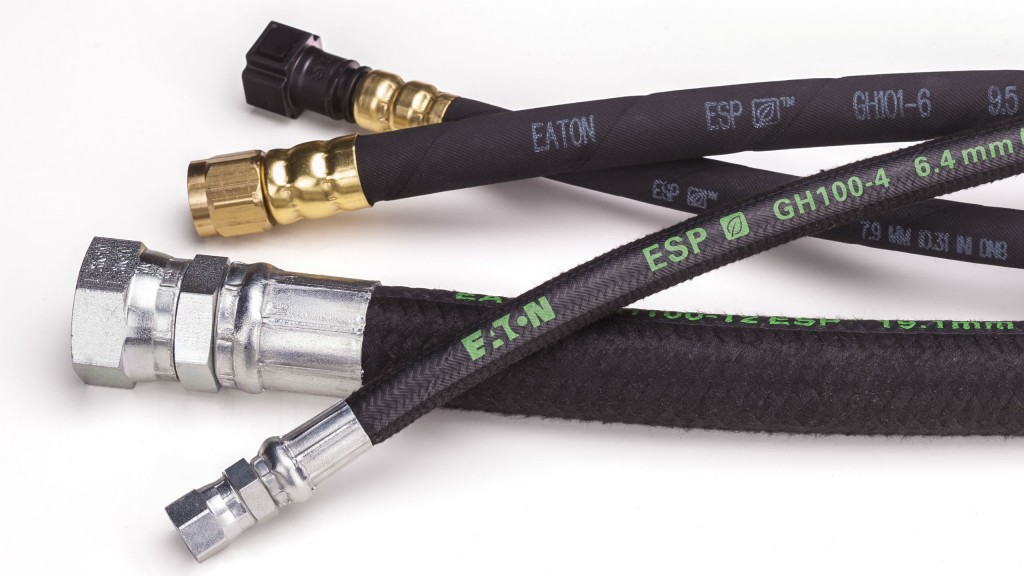 Power management company Eaton has announced the launch of the GH100 and GH101 hoses for high-percentage biodiesel blend and high-temperature oil applications. Unlike standard fuel hoses that only last 1-2 years, Eaton's GH100 and GH101 solutions are engineered for maximum performance in systems with a variety of fuel types, featuring a unique polymer that more effectively resists degradation.
The GH100 and GH101 hoses are designed to perform in high-temperature mobile applications, including trucks, busses, agriculture and construction equipment and eco-friendly power vehicles. Compatible with high-percentage biodiesel fuels and new synthetic oils, the solutions support a longer hose life while also ensuring safety requirements and quality standards are met.
"Standard hoses not compatible with biofuels can prematurely crack, leak or burst at high temperatures, leading to a host of safety, liability and warranty issues," said Doris Showalter, Product Manager, Eaton. "Ushering in the future of sustainable hydraulics, Eaton's new family of biodiesel hoses are tested and engineered to excel in high-temperature conditions – providing users with the ultimate performance assurance and complete peace of mind."
Unlike conventional hoses that deteriorate at 100 degrees Celsius (°C), the GH100 and GH101 hoses are qualified for -40°C to 150°C with B2, B5 and B20, -40°C to 125°C with B100. With synthetic oils, such as those used in Transmission Oil Cooler applications, GH100 and GH101 are qualified to -40°C to 150°C (175°C intermittent).
Additionally, because GH100 and GH101 hoses are qualified with every blend of biodiesel up to B100, users no longer have to worry about rotating between B5, B20 or higher and ultra-low sulfur diesel (ULSD) fuels. Customers also have a choice of abrasion-resistant fabric or rubber cover and multiple fitting options.
Company info
Related products
Related Articles
Traditionally, waste management companies have operated using a simple "management of waste" approach to operating a MRF. Throughput targets and continuous operation (minimal downtime) were the main driving forces. The industry has changed however, and the focus moving forward is now on optimizing system performance and reliability, in conjunction with increasing recycling rates and a drive for a "greener" and more sustainable tomorrow.
When considering the addition of, or upgrade to, an "intelligent" MRF, for municipalities or private operators, the main factors should always be the client's (operator) current requirements, and evolving market needs, which include throughput, reliability, output quality, and adaptability. Equally important is a full understanding of what is really expected from any proposed system. Having an engaged and focused mindset for the project with the client from the beginning, will impact and drive the entire design process. This then impacts the overall project result, through to the productive, efficient, ongoing operation of the facility itself.