Indeco LUBEMAXX automatic greasing system for hydraulic breakers
New lube system features Indeco Supreme 1000 extra heavy-duty breaker grease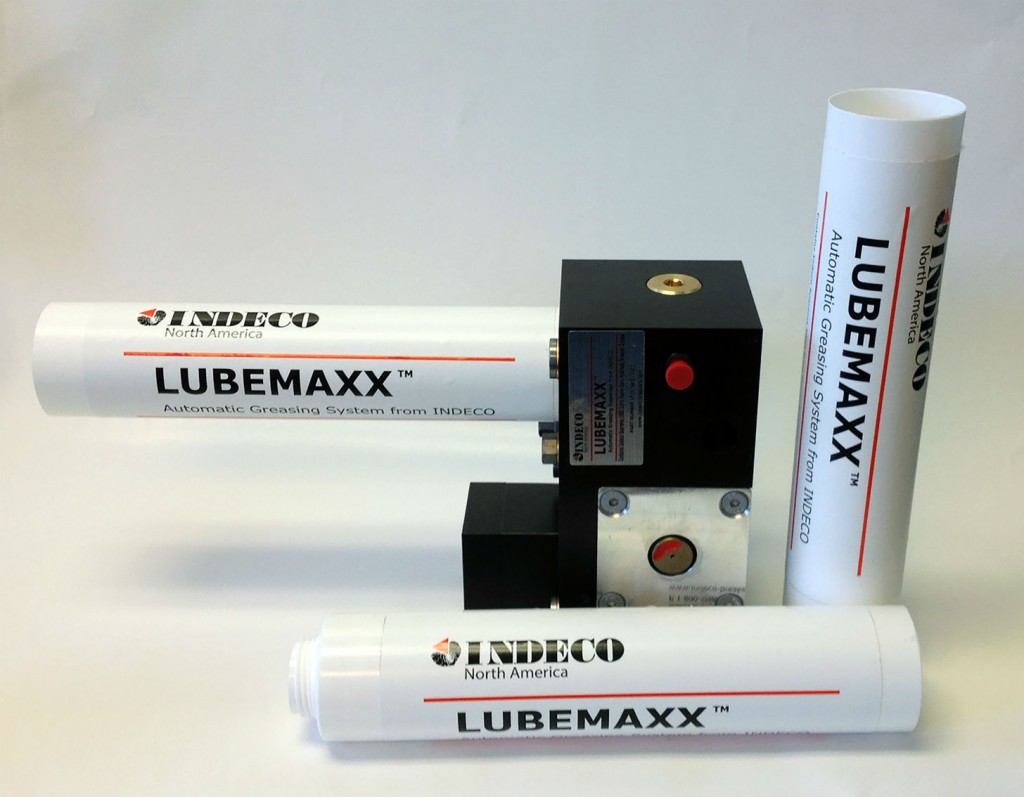 Indeco North America has launched the LUBEMAXX automatic greasing system for hydraulic breakers.
Specifically designed to deliver the exact amount of required grease every time the breaker operates, Indeco's LUBEMAXX system helps to eliminate lengthy work stoppages associated with manual hammer greasing operations. Operators gain productivity and operating efficiencies with reduced repair and replacement costs through easily installed, disposable grease cartridges fitted to a breaker-mounted pump.
"At Indeco, we have a continual commitment to develop product innovations that specifically address customer requirements," said Mike Fischer, president and chief executive officer of Indeco North America. "Based on recent customer feedback, we developed the LUBEMAXX system to offer our clients a better lubrication process that keeps their Indeco hammers running trouble-free with minimal downtime and maximum efficiency. We're very excited to be able to offer our customers this latest technology."
The LUBEMAXX hardened pump is operated by the hydraulic pressure from the hammer. The unit simply installs to the breaker's housing with a mounting plate and requires no separate electrical cables. Additionally, the grease cartridges feature a unique "see-through" channel so the operator can easily and accurately judge the amount of grease left in a cartridge, thereby preventing accidental running of the hammer without lubrication. LUBEMAXX grease cartridges contain Indeco's Supreme 1000 extra heavy-duty breaker lubricant which is specifically designed with copper and molybdenum to withstand extreme pressure and wear while maintaining excellent adhesive properties.
Features and benefits:
Closed system significantly reduces grease contamination associated with manual greasing procedures.
Continuous lubrication provides superior protection.
Eliminates work stoppages for manual greasing.
Less downtime and greater productivity.
System easily moves with breaker to different carriers, making it ideal solution for rental applications.
Related Articles
Traditionally, waste management companies have operated using a simple "management of waste" approach to operating a MRF. Throughput targets and continuous operation (minimal downtime) were the main driving forces. The industry has changed however, and the focus moving forward is now on optimizing system performance and reliability, in conjunction with increasing recycling rates and a drive for a "greener" and more sustainable tomorrow.
When considering the addition of, or upgrade to, an "intelligent" MRF, for municipalities or private operators, the main factors should always be the client's (operator) current requirements, and evolving market needs, which include throughput, reliability, output quality, and adaptability. Equally important is a full understanding of what is really expected from any proposed system. Having an engaged and focused mindset for the project with the client from the beginning, will impact and drive the entire design process. This then impacts the overall project result, through to the productive, efficient, ongoing operation of the facility itself.