Upgraded Trackstack 6542TPS provides mobility and benefits for recyclers
TESAB's tracked mobile picking station designed for recycling operators needing mobility between various sites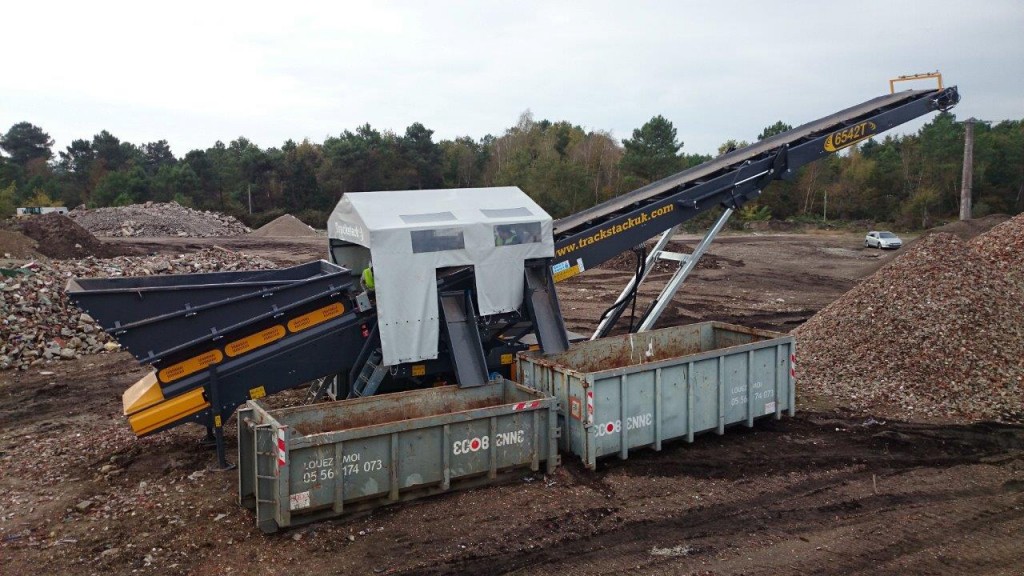 A new, upgraded TESAB Trackstack 6542TPS, at under 3.4 metres for easy transport, was recently installed at a recycling operation in France. The Trackstack 6542TPS, also available in North America, is a tracked mobile picking station designed for recycling operators needing mobility between various sites. Based on TESAB's proven 6542TPS design, this new generation 6542TPS is engineered for greater capacity, lower operating costs, easy transport and quicker setup time. This model includes a direct feed hopper that can be fed by wheeled loader or excavator, and a covered 4 person picking bay and variable speed belt mean operators can work in safe and clean environment.
Summary of 6542TPS key features and benefits for recyclers:
– Cast Iron pump and Internal drive gearbox at conveyor head, providing 3.5 times more torque than standard setups.
– Can Start Belt When Full
– High Powered Caterpillar 130HP Engine
– Large Capacity Hopper
– Long Conveyor Giving Greater Stockpile Capacity
– Excellent Mobility and Quick Setup Time.
– Flexibility to Move Picking Station Where Demand Requires.
– Ability to Use for Stockpiling Duties.
– Reduced Operator Costs
– Improved the Consistency of Material
– Cleaner Stockpiles
TESAB America was recently involved in a project involving the recycling of a large portion of Highway M24 through Lapeer, Michigan. Larry Mullins of Newark Aggregates contacted D&L Equipment Inc , TESAB's local dealer, and asked for their expertise in concrete recycling to help him crush the concrete from this project into a Michigan 21AA highway specification (Road Gravel 1" ¼").
D&L met with Bob Bloomfield of Tesab America and ordered a Tesab 10570 Track Jaw Crusher, Tesab TS2600 Track Screen and a Tesab 623CT Track Secondary Impactor. The combination of these three units are now producing in excess of 300 Tons of 21AA or 1" ¼"minus.
"For this job we needed a heavy duty Jaw Crusher," said Mullins. "Therefore we chose a Tesab 10570, which is 20% heavier than most industry jaw crushers of the same size."
After completion off the contract, TESAB America says Mr. Mullins expressed extreme satisfaction with their processing equipment, and said that combined with the support from D&L Equipment, was a key factor in making their operation a huge success.
Company info
Related products