Récup Estrie invests $2,6 million to upgrade Sherbrooke MRF
Machinex partners with local recycler to modernize 30,000 tons per year facility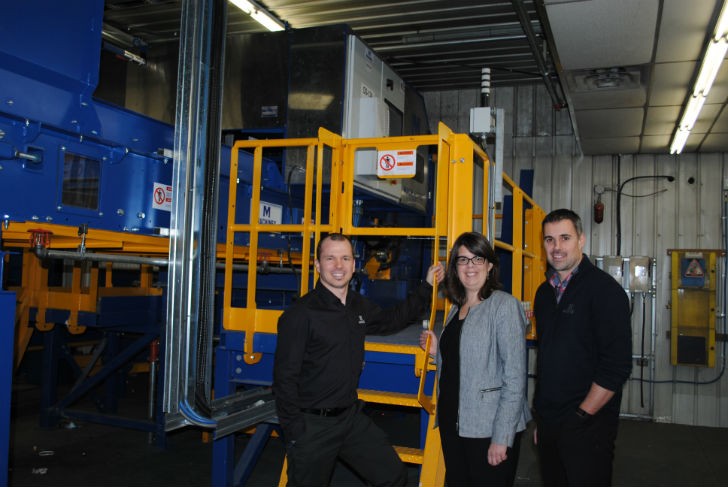 Due to modernization and upgrades accomplished in the Fall of 2015, with the help of Quebec-based Machinex Groupe, Récup Estrie has increased processing capacity of recyclable material at its sorting centre in Sherbrooke, Quebec, while improving the quality of sorted materials.
"Our modernization has placed us among the most efficient sorting centres in Quebec," said Hélène Dauphinais, president of Récup Estrie and municipal councillor, Ville de Sherbrooke. According to Dauphinais, the new $2.6 investment demonstrates a commitment by their administrative board to fulfill its mission. Following the recent investment, processing capacity of Récup Estrie was increased from an average of 14 tons per hour. "We are now achieving more than 20 tons per hour," stated Taraneh Sépahsalari, general manager of Récup Estrie. "Our new facilities will allow us to more efficiently treat the 30,000 tons of recyclable material sent annually to our sorting centre."
In addition to improving their processing capacity, due to the automation of their sorting line for containers, the investment has allowed Récup Estrie to to elevate their overall quality of recovered materials in certain categories (plastic #1, plastic #2, less of plastic in the rejects, etc.). The system also allows the company to produce a higher quality of fibers. As for glass, it is 95% removed at the beginning of the system.
Machinex Group says they were mandated to help modernize Récup Estrie after a public invitation to tender.
"An installed ballistic separator enables the recycler to separate containers from sorted fibers (combined), allowing for improved efficiency of containers' sorting," explains Karl Paré, engineering director at Machinex. "Thereafter, containers are directed towards two optical sorting machines -- the MACH Hyspec which sorts plastics by categories: PET, HDPE and mixed plastics. Finally, aluminum cans are removed by an Eddy Current separator." Machinex says the system also includes the addition of disc separators and transfer conveyors, as well as the integration of a control system that allows for decreased interruption of operations.