TOMRA Sorting Recycling launches AUTOSORT FLAKE with triple-sorting capability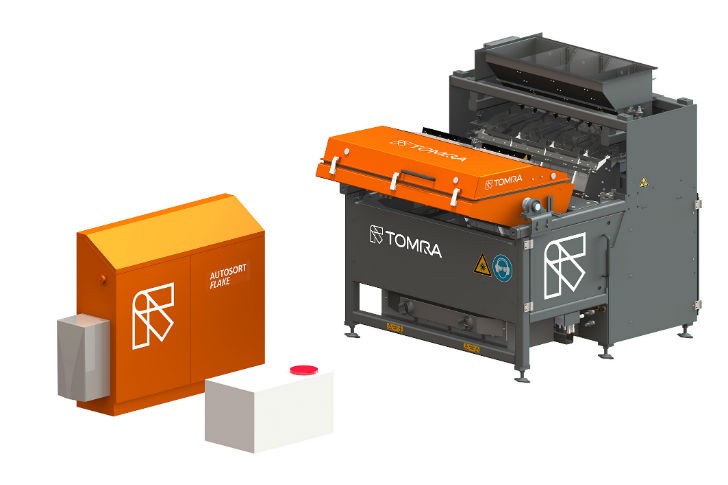 TOMRA Sorting Recycling has revealed their new AUTOSORT FLAKE, featuring simultaneous triple-sorting capability. The product launch was originally planned to take place at the Plastics Recycling Show (PRS) in Brussels, on 25 & 26 November 2015, but was transformed into a digital campaign at www.upgrade-your-flake.com, launched December 7, 2015, due to the PRS show's cancellation. Heralding a new era of high-precision sorting, TOMRA says the AUTOSORT FLAKE combines color detection and enhanced material information to maximize the recovery of high-quality recycled products which discerning markets now demand.
Released at a time when the rPET (recycled polyethylene terephtalete) plastics market focus is shifting inexorably towards premium rates for high-grade outputs, the AUTOSORT FLAKE epitomizes TOMRA Sorting's pioneering tradition. Its digital launch event gives the recycling industry a preview of a notable first: the precision analysis and sorting of waste-stream flakes by color and material at the same time. The innovative AUTOSORT FLAKE's next-generation sensor technology also detects metal, and its twin-processing mode offers customers the best possible waste throughput together with a constant high-caliber output, all from one single machine.
In his launch statement, TOMRA Sorting's Product Manager Recycling, Valerio Sama, said: "Compared to our first generation flake sorter introduced in 2010, the new generation is able to do the job of two separate units and with a much higher degree of precision reducing the loss of good material. The latest advance is a clear example of partnering with our customers to develop optimal results. Our new AUTOSORT FLAKE has combined a field-proven mechanical setup with experienced in-house R&D to deliver another industry milestone. As a result, TOMRA Sorting Recycling can offer a complete bottles-to-flake solution for upgrading plastics. "
Outlining the inherent economic benefits, he added: "TOMRA sensor-based sorters can create value at various steps of the process of plastics recycling. Depending on the needs and demand, it is also possible to combine different TOMRA sensor-based sorting equipment at various steps of the process to achieve even greater results. The AUTOSORT and AUTOSORT FLAKE combination provides the highest – and most consistent – yield in the industry. "
Detailing the advantages from a customer perspective, David Bourge, Plant Manager of SUEZ, Regene Atlantique, said: "Thanks to the partnership with TOMRA, we´ve been able to optimize our PET recycling operations. By combining AUTOSORT (bottles sorter) with AUTOSORT FLAKE (flake sorter), we´ve increased our high-quality product yield by 200%, resulting in considerably higher revenue – almost immediately through the central control computer (CCC) we are able to monitor, control, and greatly improve our production on a real-time basis. At every stage, the investment decision has resulted in quick payback!"
As with its AUTOSORT stablemate, TOMRA Sorting's AUTOSORT FLAKE deploys TOMRA's patented FLYING BEAM technology combined with the new developed FOURLINE 2mm optic module, which is currently the highest available NIR resolution on the market of sensor based sorting equipment. This groundbreaking feature provides customers with continuous calibration to eliminate errors leading to costly downtime, giving an output stability TOMRA Sorting's rivals cannot match. It contributes to low maintenance requirements and low energy consumption, and proves that it is indeed possible to protect environmental resources whilst reducing operating costs.
Company info
Related products