Caterpillar forms exclusive marketing agreement with LEFORT for portable and stationary shears and balers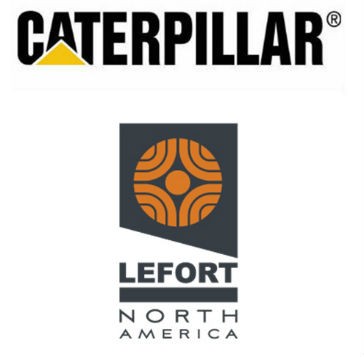 Caterpillar Inc. and Lefort North America LLC have entered into an exclusive marketing agreement for supply of Lefort hydraulic shears and balers commonly used in scrap metal recycling. The Lefort products, available in stationary and portable versions, will be sold and supported exclusively by Cat Dealers in the United States and Canada.
The vision for this agreement is to combine the strength of Caterpillar's distribution network with Lefort's innovative design and precision engineered products. "We are pleased to be working with Lefort to meet customers' portable and stationary shear and baler needs," says Denise Johnson, Vice President of Material Handling and Underground Division, Caterpillar. "Bringing together Lefort's high-quality products and our unmatched dealer network creates a partnership that will serve customers well."
Founded in 1947, Lefort manufacturers machines in their Belgium factories using state-of-the-art engineering and design methods. Lefort's North American headquarters is located in West Palm Beach, Fla. This location is also the parts distribution center dedicated to the United States and Canada.
"The partnership between Lefort and Caterpillar reinforces our dedication to the United States and Canadian scrap recycling and demolition markets," says Yves Lambert, President of Lefort North America. "It's one thing to offer an industry leading product, but offering reliable, unrivaled support is also imperative. Our partnership with Caterpillar will give customers that added assurance."
"LEFORT Group is honored to be partners with Caterpillar, guaranteeing the success of our American division," added Christian Lefort, president of Lefort Group.
Lefort offers 14 different models, each with customization options. Cutting force ranges from 330 to 2,200 tons, and box lengths range from 16 ft 4 in. (5 meters) to 32 ft 9 in. (10 meters). Drive power ranges from 70 to 1,500 hp.
Related Articles
Traditionally, waste management companies have operated using a simple "management of waste" approach to operating a MRF. Throughput targets and continuous operation (minimal downtime) were the main driving forces. The industry has changed however, and the focus moving forward is now on optimizing system performance and reliability, in conjunction with increasing recycling rates and a drive for a "greener" and more sustainable tomorrow.
When considering the addition of, or upgrade to, an "intelligent" MRF, for municipalities or private operators, the main factors should always be the client's (operator) current requirements, and evolving market needs, which include throughput, reliability, output quality, and adaptability. Equally important is a full understanding of what is really expected from any proposed system. Having an engaged and focused mindset for the project with the client from the beginning, will impact and drive the entire design process. This then impacts the overall project result, through to the productive, efficient, ongoing operation of the facility itself.