HEINEKEN USA becomes first brewer to join The Recycling Partnership
Partnership aims to improve glass recycling in the U.S.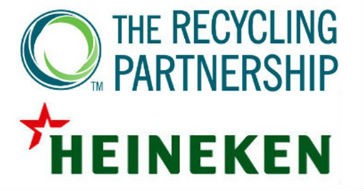 The Recycling Partnership, a national nonprofit committed to improving curbside residential recycling, welcomes HEINEKEN USA, its first alcohol company member, effective immediately. As a leading sponsor, the brewer will provide industry expertise to help improve consumer education, elevate the quality of curbside recycling and drive increased recovery of recyclable glass in communities nationwide.
"Welcoming HEINEKEN USA to our strong network of partners and sponsors will accelerate our efforts to improve the recycling infrastructure and address glass recycling opportunities," said Keefe Harrison, Executive Director of The Recycling Partnership. "The Company brings specific expertise that we believe will help amplify the reach of our recycling programs. We are eager to welcome the team at HEINEKEN USA into our diverse and dedicated group of funding partners."
Globally, HEINEKEN has a long-standing dedication to sustainability. The company's Brewing a Better World program focuses on issues including CO2 emissions reduction, community partnerships and sustainable sourcing. HEINEKEN USA knows that improving curbside recycling significantly reduces impacts on the environment and leads to healthier and more sustainable communities. Increased recycling in the Recycling Partnership's first six grantee communities translates to a ten year savings of 485,000 metric tons of CO2e. That equates to the annual energy use of more than 44 thousand homes.
The Recycling Partnership works to improve recycling in communities across the country. "Our programs create lasting and measurable value," says Harrison. "Currently, our work is reaching 71 communities which represents over 1.2 million households. Our model is scalable and with each new member, our reach expands." Industry studies have shown recyclability and recycled content are important aspects of packaging for consumers.
"We want to ensure that our products are consumed responsibly throughout their entire lifecycle, and that includes the consistent and efficient recycling of our bottles and cans," said Tara Rush, Chief Corporate Relations Officer of HEINEKEN USA. "Educating consumers and working with communities to support recycling is critical to our Brewing a Better World strategy, and we are confident that our collaboration with The Recycling Partnership will help us to create a positive and lasting impact on the environment."
For more information on The Recycling Partnership, visit www.recyclingpartnership.org and follow us on Twitter @RECYPartnership.