Peterbilt seat-integrated rollover protection in production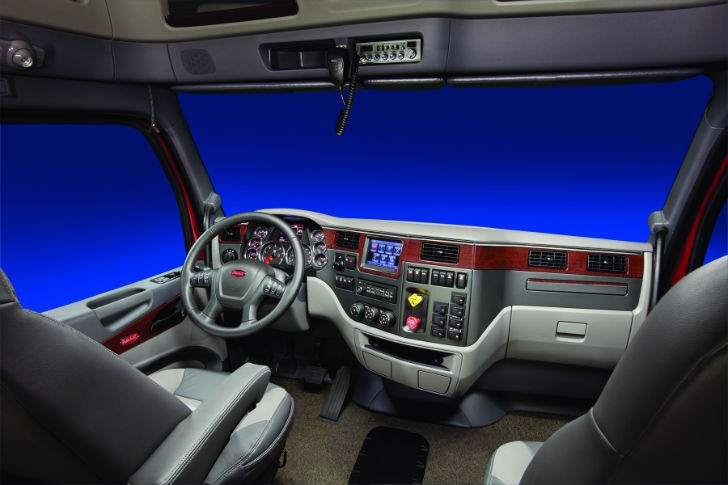 Now in production for Peterbilt's flagship on-highway Model 579 and vocational Model 567 is the RollTek protection system integrated with the premium Atlas II driver seats, Peterbilt Motors Company recently announced.
"The RollTek safety system helps protect drivers in the event of a rollover," said Scott Newhouse, Peterbilt Chief Engineer. "A sensor located under the seat constantly monitors the angular position of the vehicle and activates when it detects an imminent rollover. When activated, RollTek deploys side-roll airbags, tightens the safety belt and lowers the seat to help reduce injury risk and maximize safety for operators."
The Atlas II seat with the RollTek system is a factory-installed option fully integrated with the truck's electrical and air systems.
"Peterbilt continues to expand the safety features on its vehicles through initial design – such as panoramic visibility – and through complementary systems, such as our new RollTek offering," said Newhouse. He noted that Peterbilt is the only truck manufacturer to offer both front air-disc brakes and electronic stability control as standard equipment on its Class 8 conventional trucks.
Other standard, safety-oriented features on the Model 579 and 567 include LED lamps for all marker lights; staircase-step design for cab entry and egress; an impact-resistant stainless steel grille reinforced by a hood protection bar; a hood blowdown prevention lock; and industry-leading forward lighting. Several optional safety features include rear air-disc brakes, collision mitigation systems and high intensity discharge headlamps.
Company info
Related products