Creating a market for biomass
Ontario landclearing company finds the optimum blend of productivity versus haul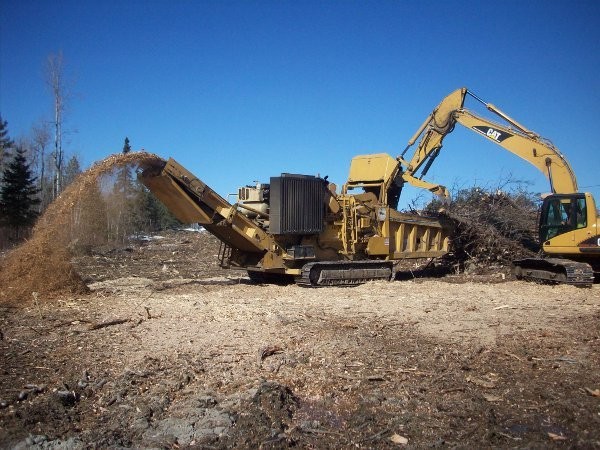 by Randy Happel
Like many of the communities that sprung up along the banks of the Sturgeon River and the densely wooded shorelines of Lake Nipissing, Ontario, Sturgeon Falls (pop. 13,500) got its start as a fur-trading post and commercial logging town.
The first permanent resident, James R. Holditch, arrived in 1878. Sturgeon Falls experienced a growth spurt with the arrival of the Canadian Pacific Railway construction crews, and the town now has the distinction of being the most bilingual community in Ontario, with upwards of 75 percent of the population fluent in both French and English. Logging and the establishment of pulp and paper mills accelerated the village's growth, attracting many French-Canadian settlers to the area, including ancestors of Jean-Pierre Martin, executive assistant at Sturgeon Falls Brush & Contracting Limited, a land-clearing and wood-processing company founded in 1976.
The company got its start by four family members with a couple of chain saws doing right-of-way land clearing for natural gas pipelines. Today, under the direction of Gerry Larcher and his team, Sturgeon Falls Brush has over 100 employees, and has amassed an impressive fleet of heavy iron – at last count, 138 pieces – and has extended its services to include highway expansion and wood processing.
"Land clearing is still our bread and butter," Martin says, "although we have a fairly substantial chain link fence division and have added general contracting work. Around here, pretty much all industry is tied to the lumber industry. We've also gotten into the biomass raw materials market, while expanding our trade territory to cover nearly all of Canada. We've been very fortunate in that the majority of our work comes to us, as opposed to us having to go out looking for it."
In 2006, Sturgeon Falls Brush bought a Vermeer HG6000 horizontal grinder – at a time when there was little demand in their area for biomass.
"Basically, we only used it for erosion control and to create better access on the right of way," says Martin, "because it was a requirement of jobs not only to remove the non-merchantable wood, which is basically biomass, but also to account for it. Biomass also had to be used in an approved way, one of which was our original application as well as energy conversion. Pulp and paper mills burn it in huge boilers to create steam, and ultimately, to subsidize much of the energy used to power mills and produce paper."
Creating a market for biomass
According to Martin, the majority of the wood currently being processed by Sturgeon Falls Brush is still being used for landscaping and erosion control products because the demand for biomass in the area just isn't there … yet. The company has been working on a number of projects, and is in discussions with several individuals and companies that have expressed an interest in establishing power generation plants to use biomass.
"We are working hard to create a market for biomass and promote its use," Martin says. "Right now, around here anyway, the biomass market is not being used to its full potential."
Nearly 100 percent of the wood waste raw material being processed by Sturgeon Falls Brush is non-merchantable wood from their harvest operations, including tops, branches and low-grade timber originating from the company's land-clearing operations. Cost efficiencies in processing and transportation are among the primary factors that have stifled biomass demand, impediments that Sturgeon Falls Brush is working hard to address.
"We generally will not haul biomass any further than 96 to 120 km (60 to 75 miles)," Martin says. "If we can stay within that range, then there's an economic viability to transporting it. There are a few co-generation plants within that range from here that are basically either natural gas or biomass. It has been a challenge for our company because we are underutilizing our grinding potential right now."
Sturgeon Falls Brush processed more than 90,718.5 tonnes (100,000 tons) of processed wood waste in 2010, well short of the company's nearly 272,155.4-tonne (300,000-ton) capacity. The majority of the product is hauled to pulp mills in Northern Ontario, in addition to a few local co-generation plants that employ both biomass and natural gas to generate power. Martin says grinding specifications are fairly loose, but after experimenting with different grind sizes, Sturgeon Falls Brush has identified sizes that are most efficient for the different types of wood they process.
"We used to grind to 15.2 cm (6-inch) minus," Martin says, "but we found that by converting to 10.2 cm (4-inch) minus we can haul a much better load. The material seems to pack better in the trailer despite taking a little bit longer up front to grind. This seems to be the optimum blend right now of productivity versus haul."
Logging versus land clearing
Martin says there are specific regulatory attributes that distinguish land clearing from logging. Logging regulations require that a percentage of residual trees remain unscathed for natural regeneration. If it is a clear-cut or semi-clear-cut area, all trees are skidded to a landing before being delivered and slashed so the biomass material that's available from the operation is contained within one pile. That's when a Sturgeon Falls Brush crew will transport one of the four Vermeer HG6000 horizontal grinders in their fleet to a site for processing wood waste and loading onto trucks for transport to various customer locations.
In land-clearing projects, where the purpose is not to harvest the wood, but rather to make way for a new highway, power line or building project, everything has to come out.
"It's not a question of taking the biomass out because there's a market for it, it's a question of if you don't have a market, you're still responsible for removing everything," Martin says. "It's why we got into the biomass market in the first place – to create a sustainable, renewable end use for the materials that were unusable, i.e., smaller pieces, such as the tops, branches etc. It's why we bought our first Vermeer grinder."
Timing, availability and demand Located in the heart of logging country, Sturgeon Falls Brush has access to approximately 272,155.4 tonnes (300,000 tons) of raw waste wood each year. The challenge, however, is timing; the "when and where" of material availability, and matching that to equipment demands and access.
At the time Sturgeon Falls Brush purchased their first Vermeer grinder, the company was about to embark on a large land-clearing job for a pipeline expansion project: the addition of a 106.7 cm (42-inch) line that necessitated widening of the existing right-of-way. The project spanned more than 64 km (40 miles), with Sturgeon's HG6000 grinder positioned accordingly amidst the rugged, densely wooded terrain for processing the several tons of waste wood on site.
The company has since purchased another HG6000 horizontal grinder model, and also added two HG6000TX horizontal grinders with track undercarriage. Although creating additional demand for waste wood and biomass is an ongoing challenge for Sturgeon Falls Brush, the company is committed to promoting any project that could use the material within a 96.6 km (60 mile) radius of their Sturgeon Falls home base.
"It's a matter of putting the right project together to use that material and make sure the machines are running 40 to 45 weeks a year, instead of just 20," Martin says. "Obviously the optimum is to have all of our grinders in operation at the same time."
Playing European catch-up
After a visit to Austria a couple of years ago, Martin admits that North America is lagging behind the European countries in biomass utilization technology. Stifled by affordable pricing of natural gas and hydro domestically, compared to the cost for these resources in Europe, North America has trailed our overseas counterparts largely because prices here remain too low for motivating a more widespread movement to develop more renewable, sustainable energy sources.
"Take diesel fuel as a prime example," Martin says. "It's like $10 to $12 a gallon and there are no oil furnaces in Austria, and they don't have natural gas. So they burn biomass and municipal waste. And they have the technology to make it clean. Most people in North America don't understand that. The technology is there. Unfortunately we just don't accept it here. If we don't see it for ourselves, we don't believe it."
At present, Martin feels that the potential for biomass in North America is unquantifiable, and his company is in discussions with some remote communities that don't have access to natural gas to establish pilot projects for district heating and power generation.
"The idea that this could all be self-sustainable, much the same as it has been in Europe for years, is all very exciting," he says. "But first, we need to make it economically viable. And that will only happen with involvement and buy-in from government and larger private corporations. "Sturgeon Falls Brush is just a bit too small to be directing such an initiative, without substantial capital for research and development."