Unique Whole-Log Wood Waste Burner Produces Up To 110 Kw of Fossil Fuel Free Electricity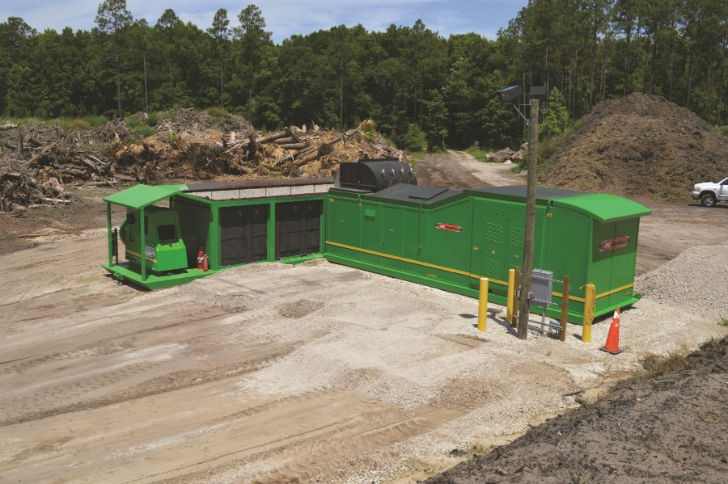 ElectraTherm recently partnered with Air Burners to develop the first whole-log wood waste burner utilizing ElectraTherm's Organic Rankine Cycle (ORC) power generating technology. This waste-to- energy system, called the PGFireBox, eliminates large amounts of wood waste without any pre-processing, converting woody biomass to fossil-fuel-free electricity, while providing a significant improvement in environmental impact by eliminating the methane released as wood decomposes in a landfill or forest. The first PGFireBox was commissioned in Jacksonville, Florida.
Air Burners' air curtain burning system utilizes patented technology to dispose of vegetative waste without costly pre-processing requirements. The company's self-contained system generates electricity from vegetative waste and is a fast, environmentally-friendly method (6 to 8 tons per hour/30 cubic yards per hour). The PGFireBox is also portable and can be deployed close to the location where woody biomass is collected.
ElectraTherm's Power+ Generator feeds off heat from the burner to generate up to 110 kW of fossil-fuel-free electricity. Through the company's ORC process, hot water heats a working fluid into pressurized vapour. As the vapour expands, it drives ElectraTherm's patented twin screw power block, which spins an electric generator and produces power.
According to ElectraTherm, the Power+ Generator is ideal for various applications beyond biomass, such as internal combustion engines, geothermal/ co-produced fluids and solar thermal.
Company info
Related products
More from Organics Recycling
Single-Ram and II-Ram High-Capacity Balers
At Machinex, we've been designing sorting systems for over 35 years, so we know how essential it is for MRF operators to have a baler they can trust and not worry about its operational reliability. This is why we design and manufacture reliable single-ram and II-ram high-capacity balers to specifically help optimize their operations.
Watch the video of our expert who presents the main features of Machinex balers delivering these important benefits:
Easy & accessible maintenance
Reduced maintenance & bale handling costs
Energy savings
Optimal bale density
For C&D recyclers, waste haulers, demolition contractors and landfills, there is a growing opportunity to profit from rethinking processes. Although every operation is different, by streamlining the front end of the C&D operation processes with purpose-built technologies, recyclers can tap into new end markets, accommodate higher material volumes, stay ahead of regulatory restrictions, increase recovery rates and add commodity revenue, while decreasing labor and other costs.
Download the new eBook to learn about:
Finding opportunities in the alternative to landfilling C&D
How facilities can increase their profits from C&D
Using the right C&D processing technology in the right locations