Morbark Celebrates Manufacturing Day with Student Event
Showcases Manufacturing Careers, Skilled Trades Opportunities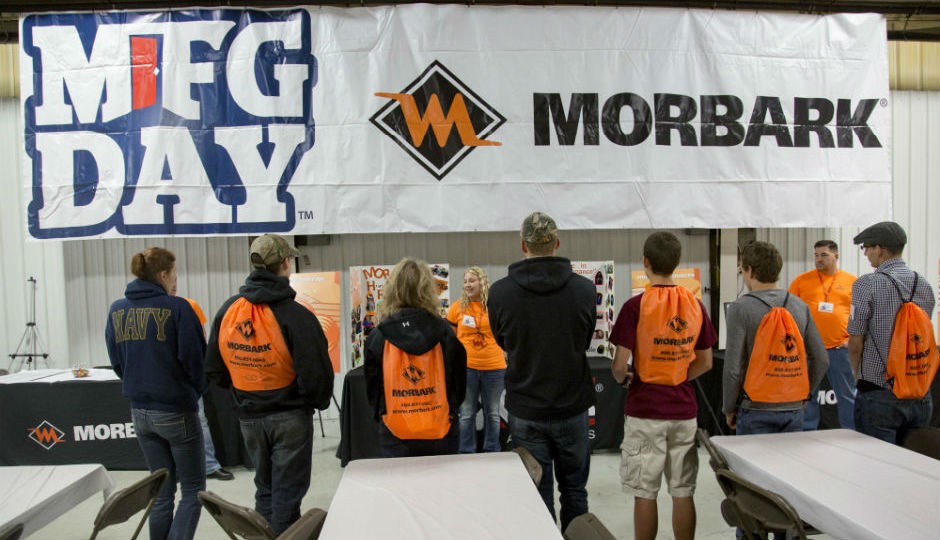 More than 130 area high school students, parents, school officials and other guests visited Morbark for the company's career-focused Manufacturing Day event. Titled "March into Your Future with Morbark," the event featured a tour of Morbark's factory and presentations by numerous employees explaining their duties and personal career paths in manufacturing.
Manufacturing Day, officially the first Friday in October, is a coordinated occasion during which U.S. manufacturers open their doors to demonstrate the potential of modern manufacturing and foster interest in the wide range of manufacturing career opportunities available upon graduation from high school, trade schools or college.
"Today's manufacturing is not your grandfather's or even your father's manufacturing," said Morbark President Jim Shoemaker Jr. "Modern manufacturing is highly technical, requires a skilled labor force and provides well-paying careers with diverse opportunities for advancement.
"Manufacturing is vital to a strong national and local economy," Shoemaker added. "But we're facing a skills gap, with as many as 60% of skilled production positions in the U.S. going unfilled, combined with misperceptions about what manufacturing is. That's why it's important to have events like this, and show young adults, parents and school personnel what manufacturing is really like and what career opportunities exist in manufacturing."
Related Articles
Traditionally, waste management companies have operated using a simple "management of waste" approach to operating a MRF. Throughput targets and continuous operation (minimal downtime) were the main driving forces. The industry has changed however, and the focus moving forward is now on optimizing system performance and reliability, in conjunction with increasing recycling rates and a drive for a "greener" and more sustainable tomorrow.
When considering the addition of, or upgrade to, an "intelligent" MRF, for municipalities or private operators, the main factors should always be the client's (operator) current requirements, and evolving market needs, which include throughput, reliability, output quality, and adaptability. Equally important is a full understanding of what is really expected from any proposed system. Having an engaged and focused mindset for the project with the client from the beginning, will impact and drive the entire design process. This then impacts the overall project result, through to the productive, efficient, ongoing operation of the facility itself.