Taking advantage of the opportunity in precious metals mining from CRTs and other hazardous end-of-life electronics
Tuffman-Eriez collaboration results in equipment designed for the job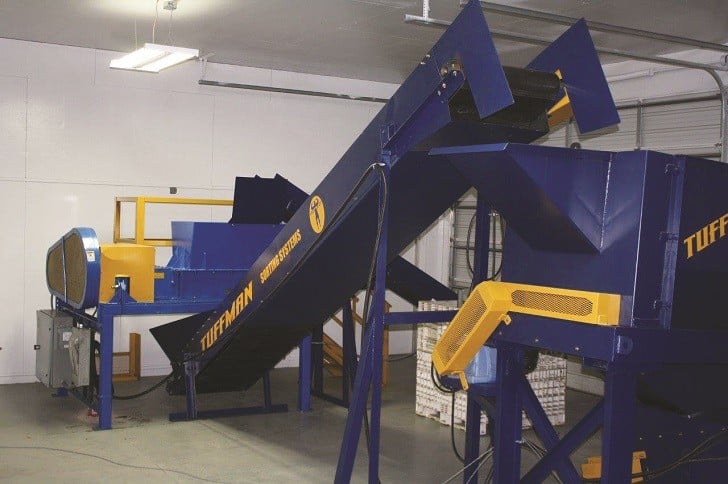 Over the past few years, there has been a drastic increase in the production and consumption of electrical and electronic equipment. Added to a decrease in the lifespan of these products, the proliferation of electronics has resulted in massive quantities of waste. Electronic waste (e-waste) including computers, cell phones, televisions, printers, calculators and any other electronic or electrical devices, is the fastest growing waste stream in the world, increasing at a rate of three to five percent every year.
Printed circuit boards from electronics are frequently dumped in landfills or incinerated, releasing toxic gases or leaching hazardous compounds into the surrounding environment. Cathode ray tubes (CRTs) containing printed circuit boards can contain cadmium and more than eight pounds of lead, which can potentially leach out of landfills and contaminate groundwater supplies. The U.S. EPA classifies CRTs as hazardous waste and regulates their disposal. Mercury, sulfur, cadmium, lead, americium and many other hazardous materials exist in e-waste, meaning it requires proper and very careful management.
What many do not realize is that these electronic components often contain high amounts of precious metals, such as copper, gold, silver and palladium. Extracting these precious metals from circuit boards is not only profitable, it is beneficial for the environment. In fact, most e-waste contains precious and base metals, making it a waste stream that is a potentially important secondary source of both ferrous and non-ferrous metals.
Although most of electronic waste's weight comes from plastics and steel, precious metals offer recyclers the most economic value per volume managed. It is also far more economical to recover gold from electronic waste than to mine gold from naturally occurring mineral ore. In fact, the separation of e-waste offers recyclers the best chance for a high return on investment through the sale of recovered tin, silver, gold, copper, lead and palladium to smelters.
Recovering metals from e-waste diminishes the demand for new products, decreases the use of limited raw materials and frees up landfill space, reducing the amount of pollution in the environment. Unfortunately, when electronics are landfilled, their value is lost completely. Still, nearly $70 billion worth of precious metals were discarded in 2010 globally. Currently recyclers around the world recover more than 100 million pounds of materials from electronics each year, but much more value could be recovered with the proper metal separation techniques.
Tuffman-Eriez metal separation system specifically designed for e-waste and ASR
Worldwide Recycling Equipment Sales, LLC based out of Moberly, Missouri, has partnered with Eriez Magnetics to develop the Tuffman-Eriez Metal Separation System as a solution for e-waste and automotive shredder residue (ASR). This metal separation system can be configured to process anywhere from five to 20 tons per hour, and begins with shredding of material. Once material is shredded, it travels by a Tuffman incline conveyor to a Tuffman trommel screen. The trommel establishes a common-sized material, sorting out pieces by size. This separation is important as the eddy current separator further downstream requires materials of a similar size to perform a clean separation. The Tuffman trommel screen permits shredded material less than 1.5 inches to move downstream. Larger material is removed from the stream and put through the shredder again.
The fines in the material stream are then transported by another incline conveyor to a drum magnet, which removes ferrous metals from the stream. The remaining material then passes over an Eriez eddy current separator. This self-cleaning separator utilizes a patented heavy-duty Kevlar/ceramic surface rotor shell and high-frequency eddy fields for optimum separation of materials, pulling out non-ferrous metals such as aluminum from the waste stream.
The remaining shredded e-waste travels up one last Tuffman incline conveyor to an Eriez ProSort II Metal Recovery System. According to Eriez, the ProSort II requires 75 percent less energy than an air-driven sorter, operates very well in cold weather conditions and has a low operating cost. The ProSort II uses sensor-activated paddles that deflect detected metals, primarily stainless steel that remains in the waste stream.