Vermeer Customers Get Sneak Peek At New Innovations During 2015 Customer Conference
Annual two-day event gives Vermeer the opportunity to thank, listen to its customers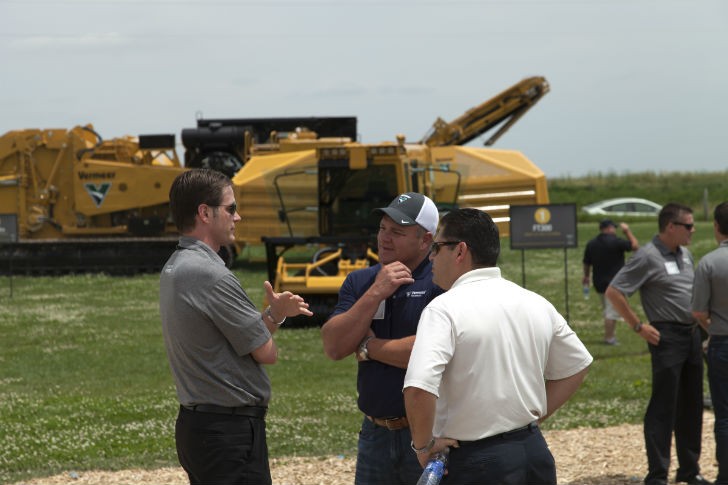 Vermeer welcomed 300 customers and dealers from across the country to Pella, Iowa, for its annual Customer Conference. During the two-day customer appreciation event, Vermeer invited contractors from the forestry, tree care, recycling, pipeline and underground utility markets to tour corporate headquarters for a firsthand look at how the equipment that supports their businesses is designed and manufactured.
The VIP event included previews of the latest product innovations from Vermeer, plant tours, product demos, as well as the opportunity to network with Vermeer leadership. Customers learned about the history of the third generation family-owned company from Jason Andringa, who will assume the role of president and chief executive officer on Nov. 1. Andringa shared his vision for the future of Vermeer and thanked the customers in attendance for being part of the company's success.
But Customer Conference isn't all work and no play — Vermeer dealers treated their customers to a round of golf or trap shooting to kick off the event.
"Customer Conference gives us the opportunity to have fun with our customers and show our appreciation for their brand loyalty," said Mark Core, Vermeer chief marketing officer. "Perhaps even more importantly, it gives us the chance to talk to customers face-to-face and gain a better understanding of how we can provide more solutions for their business needs."
Even contractors, whose profitability is based in part on productivity, find value in attending the two-day event.
"I've been a Vermeer customer for over 15 years," said Jaeson Osborn, president of Q3 Contracting Inc., based in Little Canada, Minnesota. "I attend the annual Customer Conference because I feel Vermeer values its customers by establishing a long-term partnership with them. This partnership is, and always will be, key to our companies' continued success."