Rehrig Pacific Company Announces the Launch of EnviroGuard, a New Organics Stream Solution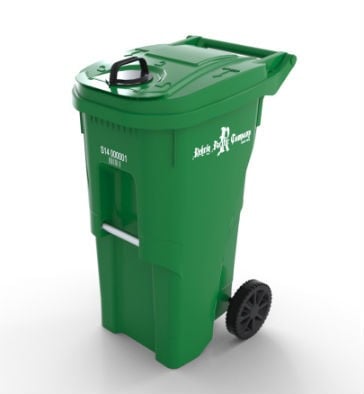 Rehrig Pacific Company, has introduced EnviroGuard, the Company's new 32-gallon/120-liter organics roll-out cart.
"Since the recent award from the City of Toronto, ON for 500,000 organics carts, there was a lot of positive feedback and interest from the industry. Therefore, we are releasing a preview of our new organics solution at this year's Waste Expo prior to its market release later this summer," said Dustin DePanfilis, Senior Director of Business Development for Rehrig Pacific.
Rehrig Pacific's new EnviroGuard Organics Cart is a 100% ANSI compliant container (Type B and G) designed with a unique locking mechanism that can operate in both manual and automated collection systems. "When we designed the EnviroGuard, our primary focus was to provide a sustainable solution that addressed the common issues associated with Organics material collection – such as rodent intrusion, ergonomics and ease of use, collection efficiencies, and safety. By designing a product that allows the resident to easily lock and unlock the container to prevent rodent intrusion and leakage will boost resident confidence and participation in the program. The moment a resident sees their cart tipped over and the resulting mess, could be the moment they stop participating," added DePanfilis.
In addition to the EnviroGuard's rodent-resistant features, it also allows the hauler to optimize their collections, improve safety and reduce workers' injuries by utilizing a fully automated collection method. EnviroGuard makes this method of collection possible and it does not require the resident to unlock the container prior to collection – making it easy for residents to use while guarding the material from rodents until it is collected.
The EnviroGuard will debut exclusively at the Waste Expo Conference next week from June 2nd through June 4th in Las Vegas at booth #3023.
Related Articles
Traditionally, waste management companies have operated using a simple "management of waste" approach to operating a MRF. Throughput targets and continuous operation (minimal downtime) were the main driving forces. The industry has changed however, and the focus moving forward is now on optimizing system performance and reliability, in conjunction with increasing recycling rates and a drive for a "greener" and more sustainable tomorrow.
When considering the addition of, or upgrade to, an "intelligent" MRF, for municipalities or private operators, the main factors should always be the client's (operator) current requirements, and evolving market needs, which include throughput, reliability, output quality, and adaptability. Equally important is a full understanding of what is really expected from any proposed system. Having an engaged and focused mindset for the project with the client from the beginning, will impact and drive the entire design process. This then impacts the overall project result, through to the productive, efficient, ongoing operation of the facility itself.