Top Tips for Grinder Maintenance
Being proactive will keep your waste-wood recycler healthy and productive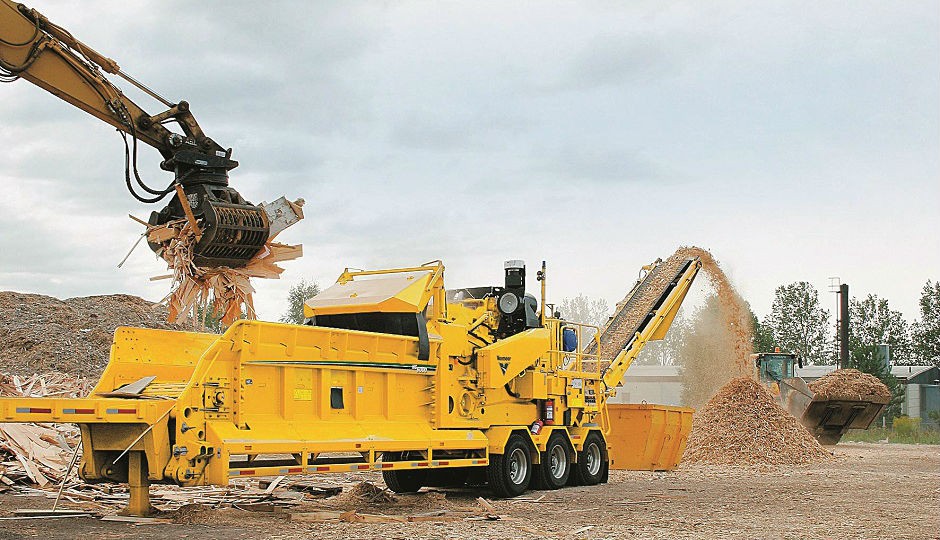 Routine equipment maintenance is something many contractors do reluctantly, and sometimes that aversion can transform into neglect. Neglect can start by pushing some of the daily maintenance needs to tomorrow, using wear parts for too long, or forgetting about components that cannot be seen or easily inspected.
When talking about maintenance of a tub or horizontal grinder, these habits do not amount to a smart business move. It's akin to letting your house fall into ruin by not cleaning or performing basic upkeep.
"Maintenance is necessary and makes good sense for your business," says Ted Dirkx, recycling and forestry specialist at Vermeer. "Without performing scheduled maintenance it can mean that a machine is not working at its optimum performance in the field. What your customer wants to pay for is that finished product. So, what the grinder owner should want is a machine operating efficiently."
Ignoring maintenance needs, however, is likely to cost a grinder owner more over time, with equipment issues and unscheduled work stoppages.
Inspect loads
A quality maintenance program starts at the gate. Dirkx believes that one of the biggest challenges facing the owners of grinders is contaminants in material being dumped in their yards by customers.
It's not unheard of to find items like engine blocks, sledgehammer heads or steel fence posts in a load. One of those can cause catastrophic damage to a grinder, but even lighter materials can lead to excessive wear. Contractors and municipalities need to inspect loads for contaminant materials and remove as many as practicable.
"If there is a contaminant issue, they need to address it with that customer to correct it from reoccurring, or don't allow that customer to dump at their site in the future. That conversation usually stops the customer from dumping contaminants," Dirkx says.
It doesn't end there however. A best practice Dirkx has observed is using an excavator with a clamshell bucket or grapple to pull material from the top of a pile to "fluff" it, allowing heavy contaminants to fall to the bottom, where they're less likely to go through the grinder.
Daily, scheduled maintenance
Nearly all operations know that there are daily needs and scheduled maintenance to be performed at certain intervals, such as every 250 hours. But that doesn't mean all operations undertake these tasks in a way that is best for the machine and, ultimately, the company's bottom line.
Routine daily maintenance includes lubrication, inspecting wear parts and checking fluid levels. With respect to checking wear parts, checking tips and screens is critical, as is keeping nonorganic material out of them. Some contractors and municipalities will use wear parts longer than they should in an effort to save replacement costs, but that approach may cost them more in the end.
"If you let those components wear too far or too long, typically you're doing damage to other components that may be much more costly, as well as losing productivity in your operation," Dirkx says.
In Dirkx's experience, the best companies require their employees to go through a daily checklist as recommended by the grinder manufacturer's maintenance manual. He also recommends doing maintenance at the end of each day. For one, the bearings and joints are still hot, so the grease tends to penetrate better and push out moisture. It also keeps the machine clean overnight.
Doing the maintenance at the end of the day should also include cleaning off the machine and any debris that may have accumulated that day to help reduce the possibility of a fire. Something else to remember is to not ignore items that are hard to inspect or see. These might be the infeed table, the discharge conveyor or wear parts that are on the underside of a grinder.
"They are kind of out of sight, out of mind and it doesn't cause issues in the short term," Dirkx says. "But when the machine starts getting more and more hours on it, there could be a significant cost in rebuilding those components."
The contractor or municipality can handle much of this daily maintenance. But at certain intervals, like 250 hours, a grinder needs more extensive maintenance, and most manufacturers recommend calling the local dealer for that work.
The type of raw material being processed also has an effect on grinder maintenance. Green waste is notorious for having hidden contaminants, which can accelerate wear. Some manufacturers offer optional features for shingle grinding. This emerging market presents unique issues, as the raw materials are much tougher than clean wood. Shingle grinding will change the maintenance intervals of a machine, as well as require replacement of wear parts more often.
Telematics
Many grinders come with alerts that tell operators when, for example, fluid levels are low or there's a high temperature. As telematics are increasingly integrated into the industry, even more monitoring of machine health will be possible.
Vermeer offers the InSite asset management system, which provides alerts when maintenance milestones are approaching. Telematics systems help owners be more proactive with their maintenance, and with increased visibility of the machine's needs, schedule checkups at the most opportune time to limit production interruptions. These tools also help those with large fleets keep track of what maintenance each machine needs and when.
One other (less traditional) maintenance tip is to give the operator a sense of ownership in a grinder.
"The operator will generally take much better care of it," Dirkx says, "if he's got a lot of pride in what the machine can do and how well it operates."