CM to supply Alberta's largest tire recycling company with new crackermill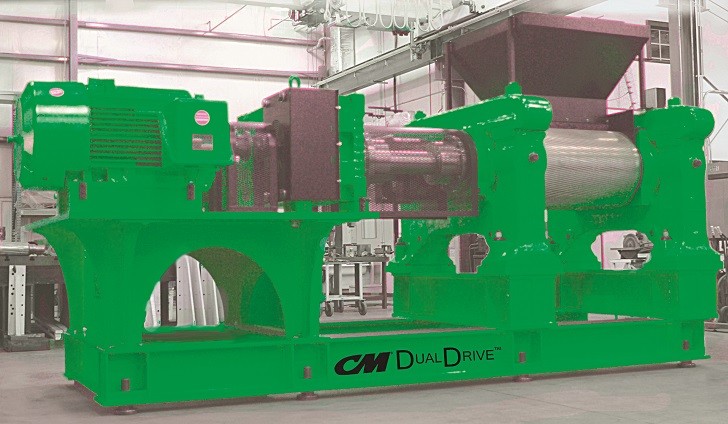 Strategically located in Edmonton, Alberta Environmental Rubber Products (AERP) is one of the largest and most well established tire recycling facilities in Canada. A local family owned and operated company, the company was founded as a direct result of environmental policy initiatives of the Alberta government who believed that tire collection and recycling was a worthwhile effort and a much needed service for the province. AERP is a full service processor that collects and transports across Alberta. Currently AERP produces and markets a wide range of tire-derived material ranging from shred to rubber crumb.
When they first opened their doors for business in 1994 their main focus was on the Tire Derived Fuel (TDF) market and they chose a CM Dual Speed Shredder for the job. AERP was so successful in marketing their clean cut chips that they purchased a second CM Dual Speed Shredder the following year to keep up with the overwhelming demand for top quality TDF.
As the years went by, the demand for crumb rubber began to emerge and grow, and the use of colouring dyes along with polymers and binders made tire rubber an increasingly popular choice for many manufacturers. AERP made the decision to expand beyond TDF and made the leap into higher value markets. They reconfigured their shredding equipment to make larger shreds, ideal feedstock for downstream removal of steel by makers of mulch and loose fill playground products. They also expanded their capabilities to remove the fibre and granulate rubber down to even smaller material, sold to companies that produce pour-in-place surfacing, tiles, mats and many other moulded products.
AERP was recently awarded a large contract to supply -30 mesh rubber powders. Needing to meet the specification, they again called upon CM who will deliver a CM Dual Drive Crackermill to their facility this spring. The Dual Drive Crackermill is recognized worldwide for the development and introduction of dual roll technology, which has revolutionized and modernized the production of fine grind rubber material. The rolls are driven independently at variable speeds to create the rolling and cracking of rubber known as the "friction ratio". As the friction ratio increases, the mill's production and size reduction performance capabilities are greatly enhanced. CM's dual drive mill uses a regeneration process which allows the machine to lower its energy requirements and operate more efficiently. This process is controlled by programmable, fully integrated logic controls that increase production rates while cutting power consumption. The machine is capable of processing tire rubber as well as other rubber materials down to -20 to 80 mesh powders.
This will be the first Crackermill delivered by CM since acquiring the intellectual rights for the Artisan Dual Drive Crackermill in 2014.
In addition to the supply of new Dual Drive Crackermills, CM operates a complete refurbishment department to service existing mill equipment. The company provides roll replacement and regrinds, and stocks all parts including rolls and bearings.
Related Articles
Compology CEO Jason Gates briefs U.S. Congressional Recycling Caucus on benefits of waste metering