IROCK Crushers Offers Diesel-Powered Sidewinder Crusher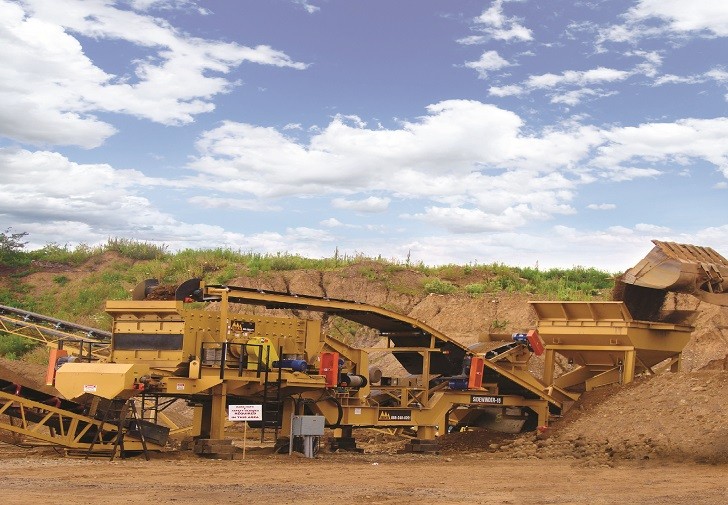 IROCK Crushers has responded to customer demand with the introduction of a diesel option for its line of Sidewinder crushers. IROCK now offers the Sidewinder-15 with a 350-horsepower Caterpillar C-9 diesel engine, which powers a 100-kilowatt generator for full on-board power. The power system is an alternative to the standard electric option.
The crusher is V-belt driven and features a P.T. Tech clutch, which decreases power loss and increases fuel efficiency. An optional vibrating feeder with a tipping grid can be powered by the sidewinder via a variable frequency drive and remote control. The machine incorporates a 5-foot-by-16-foot Cedarapids horizontal screen box with a triple-shaft design for long life. IROCK also equipped the new Sidewinder with four hydraulic outriggers for quick plant set up.
Sidewinder crushers screen out a high percentage of feed material that is already the required size before it reaches the crusher. This minimizes the amount of material that runs through the crusher, which in turn increases production and reduces wear.
Sidewinders feature a closed-circuit design and a four-bar impactor, and they can produce up to four product sizes – three uniformly sorted and one oversized. A flop gate within the pant leg chute gives operators the option to either recirculate the crushed oversized material for further screening and crushing or divert it to be stockpiled as a 100 percent crushed material.
Sidewinders are perfect for primary crushing in sand and gravel applications and recycled asphalt operations, or for secondary use with materials such as recycled concrete and quarry rock. There are three sizes available, each with a three-deck horizontal screen. With screening areas of 210, 288 and 360 square feet respectively, the Sidewinder 15, 20 and 30 can process 400, 600 and 750 TPH.
The mobile crushers feature IROCK's exclusive ROCK BOX, an innovative alternative to discharge chutes found on similar units. The ROCK BOX uses a shelf system with abrasion-resistant wear bars so crushed material can build up and act as a wear liner to effectively reduce maintenance. In addition, standard catwalks alongside the unit provide full access to each side of the screenbox for ease of maintenance or screen media changes.
In addition to manufacturing heavy-duty equipment and high-quality components, IROCK also strives to provide exceptional customer service. The company has convenient 24-hour online parts lookup and ordering, fast delivery and live service support until 9 p.m. EST.
Company info
Related products