In-Motion Weight Scale for Residential Cart Tippers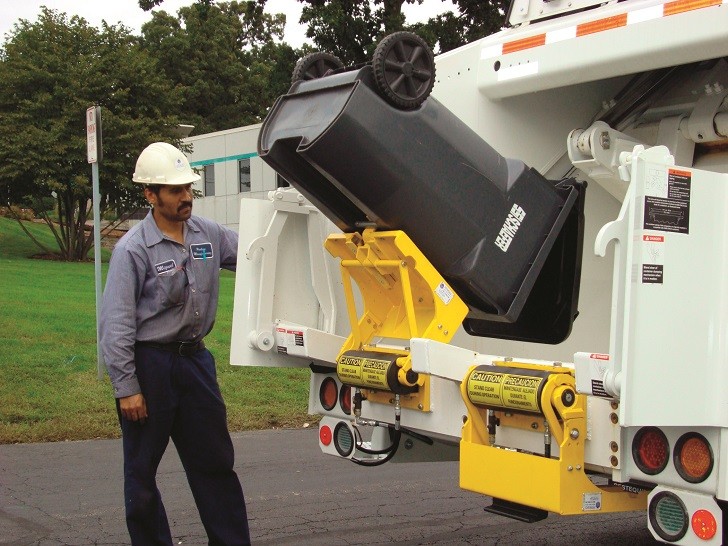 Introduced at the 2014 Canadian Waste & Recycling Expo, held in Toronto this past November, Creative Microsystems' new LoadMan In-Motion Weight Scale for cart tippers uses state-of-the-art, patent pending load cell technology. This latest in-motion scale addresses the growing residential waste management market and leverages innovative technology that LoadMan says they have honed over 25 years in the commercial waste management industry.
"We're delighted to introduce our LoadMan In-Motion Weight Scale for cart tippers because we see a need for a highly reliable and durable product given the abuse that cart tippers withstand on a daily basis," said Larry Santi, president of Creative Microsystems. "We understand the challenges that haulers face and believe our new system will not only provide the accuracy that's required to weigh individual waste carts, but will save time and money through our weigh-in-motion technology."
LoadMan scales deliver unprecedented accuracy, reliability and durability and are compatible with most cart tippers on the market. Dual load cells measure the angle, speed and load on the cart lifter every 10 milliseconds, and the system's high-speed microprocessor and proprietary algorithms make calculations and corrections all while the cart is in motion to deliver a highly accurate weight. LoadMan scales are built to maintain their accuracy within two percent of the capacity of the cart lifter over an annual period. In addition, the system's rugged strength, with unique locking design and resistance to high and low temperatures, ensures the scales will maintain their original calibration over an extended period of time.
LoadMan In-Motion Weight Scale combined with Load- Man Load Management software provide a critical solution for haulers to access essential data for analyzing their business, tracking customer waste and recycling habits, and reporting waste diversion rates. Additionally, the LoadMan system can connect with GPS or RFID readers to automatically track each customer pick-up with no driver intervention or distraction.
Also recently introduced by Creative Microsystems, the LoadMan LM400 on-board computer for fork-based commercial refuse/recycle trucks provides a modern touch-screen graphical user interface, along with superior construction and durability of the in-cab computer. The complete system includes the Load- Man LM400 on-board computer with a Route Assistant application for waste and recycling, LoadMan Load Management back-office software as well as LoadMan on-board scale technology.
"We continue to listen to our customers and enhance our products based on their needs," said Santi. "Automation, durability and ease-of-use come up time and again as haulers seek to increase productivity and reduce costs. Significant enhancements with the LoadMan LM400 nearly eliminate the learning curve and automate many processes to free drivers up to focus on driving and their routes."