Pinnacle and Tolko launch new pellet plant in Lavington, B.C.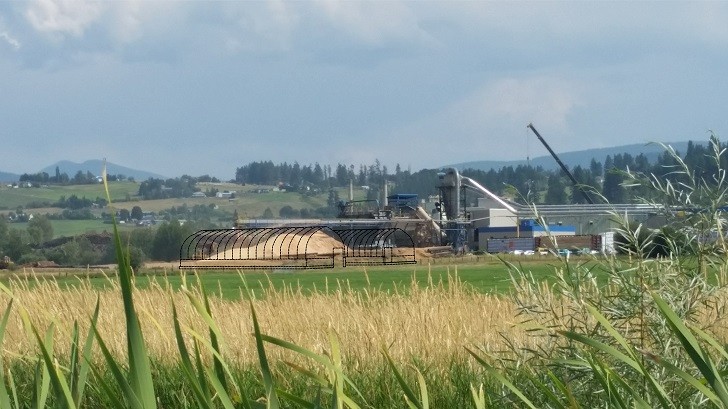 After receiving all necessary approvals, Pinnacle Renewable Energy Group launched the construction of new pellet plant in Lavington, B.C., adjacent to the Tolko sawmill. The contract for the construction of the raw materials bulk-storage MegaDome buildings has been awarded to BuildWorks.
Pinnacle, the largest wood pellet producer in Canada already operates 6 pellet plants across BC, with a production capacity of well over 1 million tons annually, for a variety of products including softwood pellet fuel, animal bedding, and natural sorbent. The new pellet plant is a joint venture with Tolko Industries.
The new pellet plant will use the excess biomass comprised of sawdust and shavings that accumulates at the Tolko mill, and at other locations in the region. The MegaDome enclosures, together with bag house filtration systems will improve the air quality in the Lavington area, as fugitive dust is virtually eliminated. The MegaDomes are constructed of a flame-retardant coated Powershield membrane to minimize risk of fire.
BuildWorks Construction Inc., the authorized MegaDome builder and the province's premier supplier of fabric covered buildings for nearly 15 years, has been engaged to design and construct two large MegaDome pre-engineered fabric structures with a 30,000 SF footprint. For maximum bulk storage capability of sawdust and shavings—a 100% natural and renewable fuel resource—the buildings will be installed on 10 foot high concrete lock-block walls, creating over 10,000 cu. metres of storage capacity.
MegaDome is manufactured by Harnois Industries Ltd., in Quebec, an ISO 9001 certified company. All buildings are BC Building Code compliant and carry the Certificate of Design and Manufacturing Conformance (CSA A660-10) – a mandatory requirement under the National Building Code of Canada (NBCC) for all pre-engineered building structures.
Construction has begun with completion scheduled for late summer, 2015.
Related Articles
Traditionally, waste management companies have operated using a simple "management of waste" approach to operating a MRF. Throughput targets and continuous operation (minimal downtime) were the main driving forces. The industry has changed however, and the focus moving forward is now on optimizing system performance and reliability, in conjunction with increasing recycling rates and a drive for a "greener" and more sustainable tomorrow.
When considering the addition of, or upgrade to, an "intelligent" MRF, for municipalities or private operators, the main factors should always be the client's (operator) current requirements, and evolving market needs, which include throughput, reliability, output quality, and adaptability. Equally important is a full understanding of what is really expected from any proposed system. Having an engaged and focused mindset for the project with the client from the beginning, will impact and drive the entire design process. This then impacts the overall project result, through to the productive, efficient, ongoing operation of the facility itself.