Cascade Cart Solutions Adds Awareness and Funds to the Fight Against Alzheimer's with New Purple Carts
New Customized Roll-Out Carts and Curbside Bins Unveiled to Raise Funds for Alzheimer's Association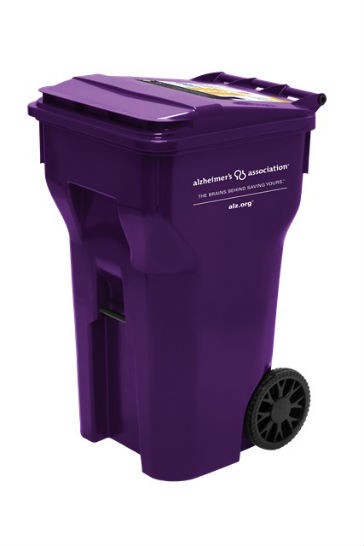 Cascade Cart Solutions, a division of Cascade Engineering, is joining the fight with the launch of its purple Alzheimer's Cart. Proceeds from the sale of each first-of-its-kind purple cart and bin will be donated to the Alzheimer's Association.
Recently debuted to thousands of municipalities at SWANA's 2014 WASTECON conference in Dallas, TX, the Alzheimer's Carts are gaining interest across the nation. Available to communities nationwide, the purple, curbside recycling bins and roll-out carts feature the Alzheimer's Association logo and web address. The cart lids also include a permanent in-mold label with the Association's 'Know the 10 Signs informational piece to help create awareness for the disease. Cascade has partnered with the national Alzheimer's Association to ensure that $5 from the sale of every purple cart and $1 from the sale of each bin will be donated to the local Alzheimer's Association where the product was purchased.
"We are honored to support the wonderful work of the Alzheimer's Association with our Alzheimer's Cart initiative," said Mark Miller, President and CEO of Cascade Engineering. "We take for granted our ability to think, memorize, and behave. Alzheimer's takes away these basic abilities. We all know someone who has Alzheimer's and watch helplessly as this disease takes its toll on friends and families."
The Alzheimer's Association projects that by 2050, an estimated 16 million Americans will have the disease, with a new case diagnosed every 33 seconds and costing $1.2 trillion a year, making Alzheimer's the most expensive health crisis to ever face the nation. This means now, more than ever, funding research and support of the Association's mission is critical for a disease that currently can't be prevented, cured, or even slowed.
"Cascade Cart Solutions has been active in curbing cancer since we unveiled The Pink Cart for Breast Cancer in 2010," said Jo-Anne Perkins, Vice President and General Manager of Cascade's cart division. "Alzheimer's is the sixth leading cause of death in the United States and it's important to the entire company to partner with municipalities and the communities they serve to help raise awareness and funds for this devastating disease. We're thrilled to unveil our Alzheimer's Cart and to begin offering it to cities and haulers across the country."
Alzheimer's Carts will be available in several sizes to accommodate the varying offerings by municipalities and haulers nationwide, including:
18 gallon curbside bin
32 gallon roll-out cart
64 gallon roll-out cart
96 gallon roll-out cart
"The Alzheimer's Association appreciates the commitment of Cascade Cart Solutions to both raise awareness and funds for our mission," said Angela Geiger, chief strategy officer, Alzheimer's Association. "We know that families in neighborhoods nationwide are facing Alzheimer's disease and need resources. The opportunity to share Alzheimer's Association information with families and support critically needed research is important for the 5 million Americans living with Alzheimer's and their 15 million caregivers."