Mechanix Wear ORHD glove safeguards from impact injuries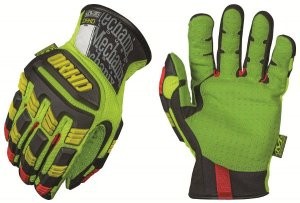 The ORHD glove from Mechanix Wear is designed to combat impact injuries and enhance gripping power. Dual-density thermal plastic rubber safeguards knuckles and metacarpals from forceful impacts, while dual-density TPR with dedicated flex points provide critical pinch-point protection to the tip of each finger.
2-mm EVA foam lies beneath the hard-density TPR to help disperse blows to the top of the wearer's hand while an extended slip-on cuff protects the wrist. The palm is also reinforced with durable synthetic leather as well as PVC bonded dots for durable gripping power.