ATLAS horizontal scrap baler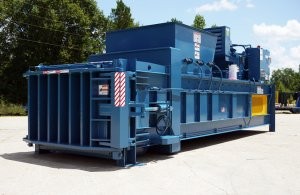 The Marathon ATLAS is a highly efficient, mid-size horizontal baler designed with heavy-duty construction to meet the demands of daily use in the non-ferrous scrap industry. The ATLAS ET (Extra Tough) features 500F liners, an S-7 hardened steel ram and body shear blades for the most demanding applications.
ATLAS balers feature programmable operation, are UL-Listed and use wire guides and a tie-through bale chamber door. Other standard features include a full penetration ram for maximum compaction and fully ejected bales, a hydraulic door latch, and a controller that permits automatic or manual operation. The ATLAS produces a 48-inch (high) by 60-inch (long) by 30-inch (width) bale size.
Company info
Related products