Neuenhauser launches 3 way split, portable star screen in North America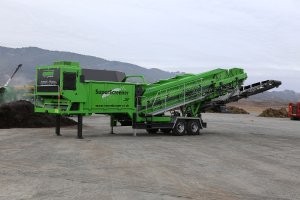 Neuenhauser North America introduced the Neuenhauser 3F portable star screen to the U.S. market at the US Composting Council trade show in Oakland, California, in January.
The machine features an "open" design and build concept, as well as two separate star screen decks, a 22-foot fines deck and a 12-foot midsize deck. Various sized star decks from 170 to 300 mm can be fitted to produce variably sized finished products as applications demand, and the stars themselves can be manufactured from rubber or polyurethane, and have optional self-cleaning hammers.
All Neuenhauser star screens are engineered with the machine operator and mechanic in mind; loaded with maintenance-friendly features such as modular star decks that can be removed and set on the ground for maintenance, an engine access platform, steel hydraulic lines, a simple control panel and centralized greasing.
The display unit at the Composting Council show was specified for the compost industry with treated acid-proof belts, a severe-duty air cleaner, a reversible clean fix radiator and self cleaning stars.
According to Neunhauser, the growing popularity of star screeners in the organics recycling industry is driven by the machine's unique ability to screen wet and sticky material that can cause blinding in many conventional flat or trommel screens. Production rates of 500-plus yards per hour are possible, thereby reducing screening costs and allowing the grinder to run directly in the star screen, eliminating the need to "double handle" the material.
Neuenhauser North America sells and provides aftermarket support in the United States and Canada, for Germany-based Neuenhauser's range of portable screening products.
Company info
Related products