Komatsu America Corp. Launches New PC228USLC-10 Hydraulic Excavator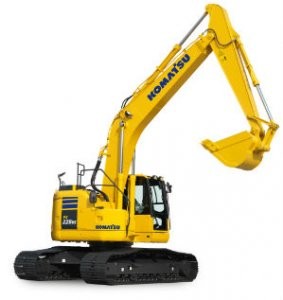 Komatsu America Corp. announces the introduction of the PC228USLC-10 hydraulic excavator. Komatsu's latest tight-tail excavator builds on Komatsu's proven technology of the previous model and includes hydraulic system enhancements, improved operator control and comfort, excellent lift capacity and stability, and lower fuel consumption.
The PC228USLC-10, with an operating weight between 54,123 lbs. (24,550 kg) and 55,336 lbs. (25,100 kg), is powered by a 158 net HP (116 kW) Komatsu SAA6D107E-2 engine that is EPA Tier 4 Interim emissions certified.
Compact Machine
More compact than a conventional excavator, the PC228USLC-10 tail allows the machine to work in confined areas for road, bridge, and urban applications. The rounded cab design allows the cab to rotate within the same swing radius as the counterweight. An additional 2,865 lbs (1,300 kg) pounds of additional counterweight increases its lift capacity over the front and side of the machine.
EPA Tier 4 Interim Emissions Certified Engine
The PC228USLC-10 uses a Komatsu EPA Tier 4 Interim Emissions Certified Engine. Built upon Komatsu's proven EPA Tier 3 technology, the SAA6D107E-2 engine provides a 6.7% increase in horsepower while lowering fuel consumption. Using an advanced electronic control system to manage airflow rate, fuel injection, combustion parameters, and aftertreatment functions, the Komatsu Tier 4 Interim engine optimizes engine performance, reduces emissions, and provides diagnostic capability.
A hydraulically actuated Komatsu Variable Geometry Turbocharger (KVGT) and Exhaust Gas Recirculation (EGR) valve provide better precision and air management as well as longer component life. The Komatsu Diesel Particulate Filter (KDPF) design provides a high percentage of passive regeneration using normal engine exhaust temperatures to clean out the filter and therefore does not interfere with daily operation.
To ensure product reliability and durability in demanding conditions, Komatsu developed the entire system, including the control software that is critical to the effective operation of the aftertreatment system. This control system is also integrated into the machine's on-board diagnostics systems and KOMTRAX®, Komatsu's standard telematics system.
Hydraulics
All major components on the new PC228USLC-10 including the engine, hydraulic pumps, motors, and valves are exclusively designed and produced by Komatsu. Using a Closed Center Load Sensing (CLSS) system, the hydraulic system of the PC228USLC-10 has been enhanced to increase efficiency, lower hydraulic loss and fuel consumption. New engine and hydraulic pump control technology improves operational efficiency, speed and productivity while lowering fuel consumption up to 4% over the previous model.
Enhanced Operating Efficiency through Ease of Maintenance and Serviceability
The PC228USLC-10 has ground level access to key service points. The fuel drain valve, engine oil filter, swing machinery and pump drive oil filters are all remote-mounted for easy maintenance. The radiator, hydraulic oil cooler, and charge air cooler are mounted side by side, making it simple to maintain and service.
The excavator is equipped with the exclusive Komatsu EMMS (Equipment Management Monitoring System), which performs three main functions, displayed on the large LCD color monitor. EMMS continually monitors all critical excavator systems, alerting and guiding the operator should an abnormality occur.
DT-type electronic connectors seal against dirt and moisture. For additional reliability, metal guard rings protect all hydraulic cylinders. Hydraulic hoses are equipped with O-ring seals versus conventional taper seals to help prevent leaks. Long replacement intervals for hydraulic oil, engine oil and filters reduces maintenance time for added production ready hours.
Komatsu CARE®
All Komatsu Tier 4 machines come with Komatsu CARE®. Komatsu CARE provides complimentary scheduled maintenance for the first three (3) years or 2,000 hours (whichever occurs first.) It also includes a 50-point inspection at each service and two complimentary KDPF exchanges in the first five (5) years.
Cab Enhancements Provide Comfortable Working Environment
The ROPS-certified cab specifically designed for hydraulic excavators gains strength from a reinforced box structure framework. The spacious cab is pressurized and is equipped with a standard high back operator seat for excellent support and comfort for reduced fatigue. The standard high capacity automatic heater/defroster/air conditioning system is incorporated into the monitor panel. The radio has a remote mounted auxiliary input for connecting external devices to play music through stereo cab speakers. Additionally there are two 12-volt power ports incorporated into the cab and a seat base mounted auxiliary engine shut off switch.
The PC228USLC-10 is equipped with the KOMTRAX® technology, which sends machine operating information to a secure website or smart phone application utilizing wireless technology. Data such as fuel level, operating hours, location, cautions and maintenance alerts are relayed to the web application for analysis.