Morbark debuts Slow-Speed Shredder at CONEXPO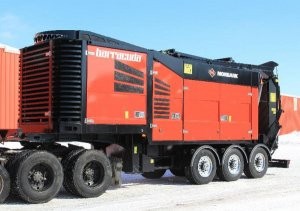 Morbark debuted the new Barracuda slow-speed shredder at this year's CONEXPO show. Morbark partnered with its European dealer, OBMtec, to produce the Barracuda, a single-rotor, slow-speed shredder for markets outside of Europe. The Barracuda, developed by OBMtec and manufactured at Morbark's Winn, Mich., factory, offers a universal solution for industrial, C&D, wood and other waste streams, providing a high-quality end product with low operating, maintenance and fuel costs.
"Adding the Barracuda shredder to our industrial product line allows our customers to easily expand their capabilities in C&D and industrial waste reduction," said John Foote, Morbark VP of Sales and Marketing.
"Our ultimate goal is to make our customers successful, so the machine was designed for versatility and ease of maintenance. With high fuel efficiency and low operating and maintenance costs, combined with the versatility to process a wide variety of materials, the Barracuda provides exceptional value to our recycling customers."
Key benefits of the Barracuda include:
• Ease of maintenance: The Barracuda is designed with serviceability in mind. All daily maintenance, such as cleaning the air filter, and checking and changing fluids, can be done while standing at ground level.
• Versatility: The Barracuda's ground-level adjustment door allows you to adjust grates in as little as 2 minutes, reducing downtime and increasing productivity. The counter knives can be repositioned to 5 different heights-higher for waste wood or lower for industrial waste-to give you the best end product for whatever you run through it. Available setup options from 20 to 40 hammers and counter knives give you multiple alternatives to find the right mix of speed, fuel economy, and output quality to best fit your needs.
• Low operating costs: The Barracuda's single rotor and bolt-on hammer inserts for reduced maintenance times, the internal rotor gearbox with high torque for greater fuel efficiency and large hydraulic reservoir for lower operating temperatures all play a part with the many other key features to reduce operating costs in this new design - all to increase the bottom line.