Ballistic separator for single-stream recycling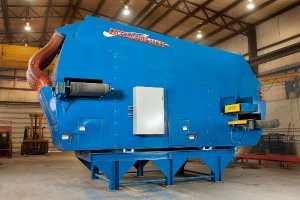 Distributed in Canada by Recycling Equipment Canada, the new Excelarator 15T-SS ballistic separator is capable of processing over 15 tons of single-stream waste per hour, with less than three percent contamination in the paper fibre output stream. Its design enables accurate separation of glass and fines, two-dimensional (paper and fibre) and three-dimensional materials (containers) in a single machine.
According to Recycling Equipment Canada, the Excelarator will help single-stream recyclers increase revenue through cleaner outputs, lower costs by minimizing maintenance requirements, and reduce sort-line positions and additional equipment required.
These units are built to provide more than double the lift of other ballistic separators, and use a patent-pending design that allows for more accurate separation of valuable paper and fibres, as well as built-in glass breaking and separation and maximum removal of glass fines from 2D and 3D streams.
Other features include: a combined single deck and fines collector that ensures there is never any contact between waste materials and moving parts; on-the-fly hydraulic bed tilt that allows users to change the bed angle while in operation; instant fine-tuning of separation, to suit changing moisture levels and stream content; and units can be fed from any angle by conventional conveyors.
According its manufacturer, the 15T-SS is the only separator featuring self-contained air circulation with filtration and dust collection, as well as the only unit of its kind that has integrated take-off conveyors to distribute the separated materials for final processing. The Excelarator 15T-SS is a result of collaboration between JWR Inc., and manufacturer Excel Manufacturing.
Related Articles
Traditionally, waste management companies have operated using a simple "management of waste" approach to operating a MRF. Throughput targets and continuous operation (minimal downtime) were the main driving forces. The industry has changed however, and the focus moving forward is now on optimizing system performance and reliability, in conjunction with increasing recycling rates and a drive for a "greener" and more sustainable tomorrow.
When considering the addition of, or upgrade to, an "intelligent" MRF, for municipalities or private operators, the main factors should always be the client's (operator) current requirements, and evolving market needs, which include throughput, reliability, output quality, and adaptability. Equally important is a full understanding of what is really expected from any proposed system. Having an engaged and focused mindset for the project with the client from the beginning, will impact and drive the entire design process. This then impacts the overall project result, through to the productive, efficient, ongoing operation of the facility itself.