Vermeer introduces new dual-fuel option for the BC1000XL
First brush chipper in market that operates on either gasoline or propane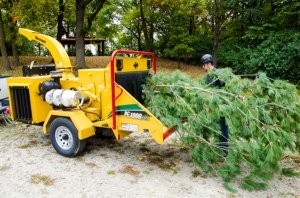 Vermeer continues to be an industry leader with innovative design by introducing the first brush chipper with a dual-fuel option. The dual-fuel BC1000XL is a 12-inch (30.5 cm) capacity brush chipper that can run on gasoline or propane, and provides tree-care contractors and rental business owners an alternative fuel option.
"Vermeer is continually looking for ways to provide new features for customers. Due to emission standards, more restrictions have been placed on diesel engines," said Mike Rector, Vermeer tree-care solutions specialist. "The idea was to provide a machine that can operate on a more abundant alternative fuel."
When fueled by gasoline, the General Motors 3.0L engine can produce 89 horsepower (66.3 kW) at 3000 rpm; when fueled by propane, the engine achieves 79 horsepower (58.1 kW) at 3000 rpm.
The dual-fuel machine also includes the Vermeer exclusive EcoIdle™ engine control system, which is offered on several Vermeer brush chipper models. This features helps drive down the cost of operation while benefiting the environment. When the EcoIdle function is selected by the operator, the engine speed automatically lowers to a preset rpm after one or five minutes of inactivity to help reduce fuel consumption when not chipping material. Due to this idling, noise and greenhouse emissions are also reduced.
A clutchless PTO preserves engine performance and minimizes wear to valuable components. The throttle is integrated with the belt-drive engagement process to ensure that the PTO can only be engaged while the engine idles at low rpm. It is then able to automatically throttle up to full rpm after the belt drive is fully engaged; through this process, engagement of the cutter drum is obtained only when needed.
Ease of use is bolstered through the feed roller orientation. The 12-inch (30.5 cm) by 17-inch (43.2 cm) infeed opening enables the chipper to better process difficult material. Control of the feed rollers is optimized with the four-position feed control bar. The bar is within reach of the operator, allowing him or her to activate the rollers from forward to reverse. Additionally, pushing or pulling the control bar will automatically stop the feed rollers.
Patented SmartFeed technology comes into play when monitoring engine speed and machine throughput. This unique feed-sensing control system monitors engine rpm and is able to automatically stop and reverse feed rollers when processing large, hardwood material. Operators have the option of choosing three different droop settings that adjust the rpm to fit specific applications.
The flexibility provided by the dual-fuel BC1000XL is an industry first and is yet another example of how Vermeer remains focused on helping to manage cost of operation.
For more information on Vermeer products and services, visit the company's website at www.vermeer.com or email Vermeer at [email protected]
Company info
Related products