MAC MAGNUM Logger/Baler ideal for auto and scrapyards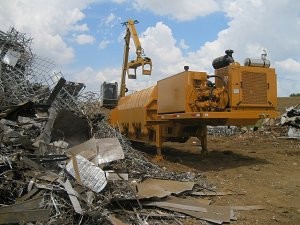 The new MAC MAGNUM Logger from Granutech-Saturn Systems is ideal for automobile and scrap metal recycling yards. The company says these units boast a continuous-rotation crane with the longest reach of any logger/baler in the industry at 27 feet 4 inches, as well a load capacity of 5,800 pounds at full reach. For added flexibility, the operator cab features an IQAN control system.
Equipped with a plus-size, 20-foot, high-production chamber, the MAC MAGNUM offers variable density options, ranging from 30 to 80 pounds per foot, and output of 40-inch by 26-inch, variable-length log/bales. These logger/balers will be formally unveiled at the ISRI Annual Conference in Las Vegas, April, 2014.