Wireless compost monitoring system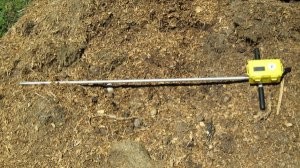 Green Mountain's Windrow Manager Wireless Probe system allows for automated temperature data monitoring of compost piles and eliminates the need for staff to gather daily temperature data. Sites can be monitored remotely and units provide warning in case of fires or overheating piles.
Additionally, this technology allows staff to monitor temperature while covering scale house and phones, and provides secure data logging for up to six months. According to Green Mountain, their Wireless Probe System eliminates both the possibility of missing required scheduled temperature readings, as well as the time spent taking these readings.
The Compost Temperature Probe and Data-Logger, the Data Probe (shown), is ideal for meeting the time and temperature criteria for EPA Class A composting or USDA organic NOP standards. This battery-powered probe automatically records temperatures at up to two hour intervals and stores up to 16,000 temperature readings.
The rugged stainless-steel probe, with its weatherproof head, is built to withstand the corrosive conditions of composting. It is ideal for new or existing commercial compost operations and research programs. The Data Probe will keep a watchful eye on temperatures in any kind of 900MHz Receiver compost system. Additionally, the 900MHz Windrow Manager 2.1 wireless receiver allows temperature data transmitted from the Data Probes to be received and integrated into Green Mountain's Windrow Manager desktop software.