Ecoverse Industries delivers Doppstadt DZ 750 Kombi "2 in 1" to the North American marketplace.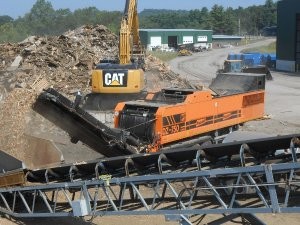 Ecoverse, North American distributor for DoppstadtUS, recently announced the release and delivery of the Doppstadt DZ 750 Kombi "2 in 1" to the North American marketplace.
The unit boasts a slow-speed shredder on the front end and a high-speed grinder on the back end, all in one self-contained unit, allowing for the efficient production of a finished product from even the roughest of in feed materials. A large permanent magnet removes foreign materials before they can enter the high-speed grinder for extra protection. Pre-shredding is carried out by the sound single-shaft principle and the hydraulically controlled shredding comb. Grinding is carried out by a fast-running flail drum with free-swinging tools.
This combination can process even the most difficult materials into a re-usable product in just one process step. Now operational, a recent job reported 130 tons of shingles processed per hour.
"Doppstadt's DZ 750 Kombi gives customers the best of both worlds," comments Shane Donnelly, General Manager of DoppstadtUS.
Based in Avon, Ohio, Ecoverse is the North American distributor and manufacturer of some of the worlds most recognized recycling equipment such as Doppstadt, Backers, EnvEco and BACKHUS.