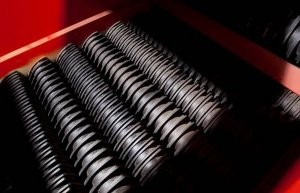 BHS Debris Roll Screen technology is a premiere sizing tool designed to handle single-stream waste, MSW, C&D debris, wood, compost, plastics, glass, tires and other miscellaneous materials.
Patented BHS compound Tri-Discs are used in-line from shaft-to-shaft, creating a precise opening for highly accurate material sizing. According to BHS, the disc shape creates a superior wave-like material agitation for efficient and accurate separation, and the compound disc design provides a true sizing effect, far superior to other discs or "star" screens.
Units also feature patented gear timing paired with variable speed drives that allows for fine tuning for varying material conditions, as well as hardened discs designed to break glass and last in the most demanding processing environments.
Company info
Related products