Chipping Drum for Beast XP-Series Recyclers Now Available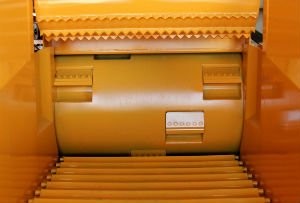 Bandit Industries now offers a chipping drum option that replaces the traditional Beast cuttermill. Designed for companies that want to exclusively chip with their Beast, the new drum essentially converts the Beast into a whole tree chipper. A variety of screens can be paired with the drum, creating a screened end product that can be tailored to meet various specifications for nearly any biomass energy application.
"Beast users can have the best of both worlds—high quality, screened dimensional wood chips from a traditional whole-tree chipping drum," said Jason Morey, Bandit Industries sales manager. "Because of the large infeed opening in the Beast, it can better process large, bulky material that would be difficult for whole-tree chippers to handle."
Chipping drums can be ordered on new Model 2680XP, 3680XP, and 4680XP Beast Recyclers, or retrofitted to older units. With more municipalities and companies around the world turning to biomass as an alternative to fossil fuels, the chipping drum option for Beasts can help users supply these lucrative markets.
"Our XP-Series Beast Recyclers are already industry leaders for production and reliability," said Christopher Smith, Bandit Industries marketing and communications director. "Now that a dedicated chipping drum is available, these machines are more capable than ever at meeting the strict sizing requirements for various fuel wood markets, and for the production of high-yield wood pellets. And with the versatility to function either as a waste reduction recycler or a whole tree chipper, the Beast is truly in a class by itself."