XP-Series Beast Recyclers feature over 35 enhancements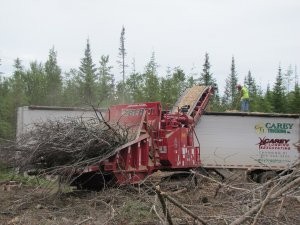 Bandit's recently introduced XP-Series Beast Recyclers include over 35 specific enhancements and add-ons in eight different categories. Model 2680XP, 3680XP and 4680XP Beast Recyclers now feature angled front infeeds with larger drive chains. Track Beasts feature height-adjustable pans for adjusting feed angle, and a new rail system on the return side of the infeed replaces the roller system, significantly reducing load on the tail shaft.
These machines also offer a new "Big Mouth" option that increases the height of the opening into the mill. Plus, an extra-large 32-inch diameter feed wheel is optional and includes a brush deflector to better direct material into the machine.
"Our customers are facing new challenges every day, so we are constantly working to develop and implement the changes they need to stay competitive and profitable," said Bandit Industries President Jerry Morey.
"This has been the case since the first Beast Recycler in 1995, and with so many enhancements added in just the past year, we knew it was time to christen a new line of Beasts. XP stands for extra power, extra performance, extra production and extra profit, and that's exactly what our customers can expect with the new XP-Series Beast."
Additional updates to the XP-Series Beast Recyclers include changes inside the mill housing, such as larger base door openings, as well as available longer-life teeth styles, freeze-hardened teeth, and optional screens and wear items.
Engine cooling on the XP-Series has also been upgraded, and units include numerous convenience options and enhancements, as well as higher horsepower engines, and for customers exclusively chipping with the Beast, a new chipping drum. Plus, an over-band magnet is optional and recommended for both shingle and pallet grinding.
"We have customers all around the world using Beast Recyclers, and there isn't an application where the new XP-Series won't make a big difference in performance and production," said Morey.
"Beasts will easily handle everything from waste wood to shingles and plastic, and there isn't a better machine on the market for turning bulky chunk wood into a quality, saleable product."