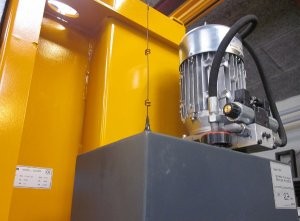 Bramidan's new GSM Solution is a modem, operating on a wireless network that can be installed on all Bramidan balers. These modems allow Bramidan or the distributor/service company to log on to a baler from any computer connected to the internet through a licensed software program, and change bale sizing, cycle times, press forces and other parameters through a single click. Additionally, once connected to a baler, technicians can perform diagnostics, including checking the heat of hydraulic oil and the motor, or checking switches that are not functioning.
This technology can also email or text different groups set up in the baler's computer. For example, if a customer has one individual who is responsible for tying and ejecting finished bales, he can receive an email or text message when the baler is full. Or if a customer's recycler wants to send a truck every time ten finished bales are ready for pick-up, the recycler can receive an email or text every time the set amount of bales have been made. Lastly, the machine can email or text the local service company, when the motor or hydraulic oil is running hot – or when any other electronic switch is not functioning right.
According to Bramidan, their GSM Solution provides benefits for recycling/haulage companies, as well as the end-user and service companies. For the end-user, benefits include reduction of service costs, surveillance of baler outputs, and communication between the machine and main operator for optimized work flow. The benefits for the recycling/hauling company include better ability to make route planning based on the actual output of a given machine – not relying on estimates; as well as the ability to check the amount of bales made with the number of bales received.