New portable trommels introduced along with shredder-trommel combo machine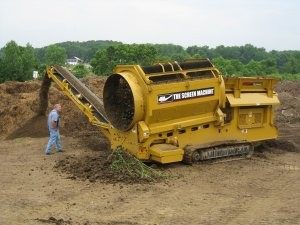 Screen Machine recently introduced their 612W (wheeled) and the 612T (tracked) Portable Trommel Screening Plants, as well as the new Might II Shredder-Trommel combination machine.
The new trommels are ideal for topsoil, compost, green waste or mulch processing requirements, and are designed to accommodate a 0.76-2.29 cubic metre (1 to 3 cubic yard) front end loader.
The 612W and 612T (shown) use a Yanmar 84-hp Tier III diesel engine with electronic throttle, a USA-sourced Grade 80 steel unibody frame that is robotically precision-welded and a 6 foot x 12 foot trommel drum that provides up to 226 cubic feet of trommel drum surface area. The unique rapid cable/hinge lock design facilitates quick screen replacement and maintenance.
Other distinguishing features include a heavy-duty drum with massive triangular tumbling paddles and the ability to load directly into a truck with a 12 foot-6 inch discharge height on the side stacking conveyor. Additional features include: a large capacity, unrestricted hopper with a low feed height; self-cleaning brushes that maintain efficient screen processing performance; and a 70 gallon fuel tank that equates to 16+ hours of continuous run-time between re-fueling. Options include remote controlled tracked undercarriage, oversize material conveyor, and remote control tipping grizzly or a vibratory grizzly pre-screen.
Screen Machine's new Might II combines a 22 blade high-speed hammermill style shredder with a 3-foot diameter by 4-foot long trommel screen. Units are designed to produce a fine finished product from materials that contain debris, clumps or green waste. According to Screen Machine, the shredder feature can provide up to 20 percent more material in a fines pile when compared to an equivalent machine without the shredder capability. The Might II is powered by a 26 hp Yanmar diesel engine, which provides enough horsepower to run an additional 30-foot stockpiling conveyor.