Semi-Underground, Deep Collection System for waste and recyclables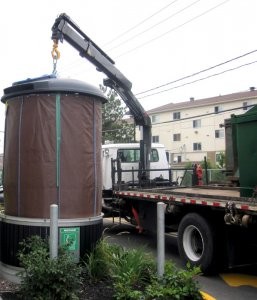 Molok Deep Collection containers are engineered to provide users with an efficient way of managing waste and recyclables. The vertical, semi-underground design allows waste to compact, increasing container capacity, and the lower temperatures underground prevent odours and pests. Containers are emptied through the bottom of a reusable lifting liner using a hydraulic arm.
Molok containers and their surroundings stay clean, as there is no dripping or spilling of waste during emptying, and units work well surrounded with landscaping. There is also flexibility with site placement as a truck does not have to approach from any specific direction.The unit's unique emptying method also allows users to landscape around their Molok container's.
In addition to containers for waste and recycling collection, Molok offers units for used cooking oil and clothes collection.