Electric-powered DZH 7000E horizontal wood grinder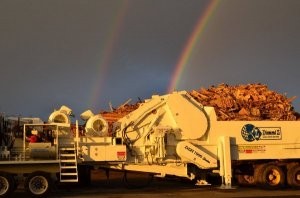 Diamond Z's latest model is the DZH 7000E electric-powered horizontal wood grinder. These units are an alternative to diesel-powered machines and will increase the production output of wood material, with production rates up to 700 cubic yards per hour for green waste.
The DZH 7000E wood grinder hammermill is powered by two 700-hp TECO-Westinghouse electric motors, and hydraulic systems and conveyors are powered by a single 250-hp electric motor. Electric power consumption is 1,000 kWh under full load.
According to Diamond Z, long term maintenance costs are significantly lower using two 700-hp electric motors for hammermill grinding versus one 1,200-hp diesel powerplant. Hourly fuel cost savings are approximately $100 and diesel engine maintenance/service charges are eliminated, including air filter change-out and injector/turbocharger replacement costs. Additionally, these electric-powered machines will eliminate the cost of air quality permits based on diesel engine mandates.
Diamond Z offers a complete line of tub and horizontal grinders ranging from 40,000 pounds to 140,000 pounds. Engine power options range from 400 to 2,400 horsepower for diesel and electric models, and units are available in track, wheel or stationary configurations.
Related Articles
On January 1st, 2021, the Basel Convention's plastics waste amendments became effective in Canada. The amendments focus on the international movement of plastic wastes that may have limited recycling options or be more difficult to recycle. This change will likely be felt all along the supply chain, including collectors, processors, and exporters. If you export plastic waste for recycling or final disposal, or if you are an exporter of other scrap materials, including plastic, paper, or e-waste, you may be subject to Canada's Regulations, and a valid export or transit permit may be required.