Horizon truck-mount or stationary-mount loader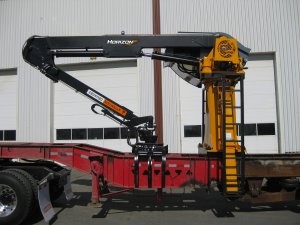 The Horizon is a high capacity loader that combines smoothness and precision with high lift capacity. It mounts easily to trucks or railroad flatbeds for easy transportation, and has a continuous rotation along with other options. It is ideal for use in scrap, rail, forestry, aggregate handling, and for loading and unloading loose ties/rail segments.
Available in both Truck and Stationary-Mount configurations, the Horizon Loader is fully customizable with options such as cabs, heaters, AC, and telescopic booms.
Units are also available with a grapple saw to assist in storm clean up duties where blowdown is an issue. Rotobec loaders are available with various Rotobec grapples, suited to fit an application.
Company info
Related products