7.5-cubic-metre, 6-tine orange peel grapple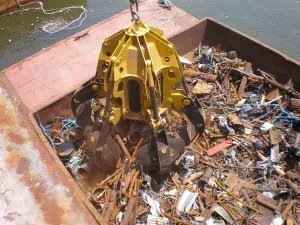 Northshore Manufacturing recently announced the latest product to its line up, the massive 6TSG-1000 Orange Peel Grapple. Weighing just over 25,000 pounds, this grapple is fully self contained. The body houses a five-cylinder, air cooled, Deutz diesel engine, as well as the hydraulic tank, hydraulic pump and fuel tank. The 6TSG-1000 can be operated via a single cable line and is opened and closed via radio remote control, making it easy for a crane operator to also operate the grapple.
This versatile attachment is designed for dockside applications and is capable of handling a wide variety of materials, including scrap steel, wood debris and other commodities.
Key features and options of the 6TSG-1000 include: a 7.5-cubic-metre (10-cubic-yard) capacity; radio remote control with an easy to use, belly pack control package; hydraulic oil coolers to maintain lower oil temperature, especially in warm climates; high tensile steel used throughout and AR 500, wear-resistant steel used on all spade tips; oversized, hardened cylinder and pivot pins with bushings; a wider body design for protecting cylinders, without limiting easy access; high pressure cylinders with rod shroud covers; easily accessible, yet well protected grease zerks; multiple access doors for easy inspection and maintenance; and quick-attach tines for fast and easy removal.