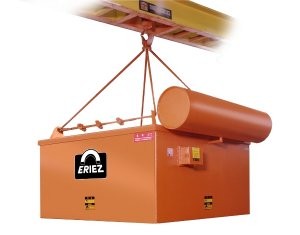 These powerful 7000 Series Suspended Electromagnets are engineered to remove damaging tramp iron from materials conveyed in heavy burden depths on flat conveyors or chutes.
Series 7000 Suspended Electromagnets allow for the safe and automatic removal of tramp iron from heavy product flows such as wood, C&D debris, as well as rock and coal, being conveyed on belts, vibratory feeders or chutes. UL-Listed construction is available on units for use in hazardous and dusty locations. Plus, these air-cooled, dry-type electromagnets are approved by CSA, require no coolant fluids and reduce power consumption by up to 50 percent. Both manual and self cleaning Suspended Electromagnets are available.
Eriez has also recently introduced several improved and updated products to the market. Permanent magnetic circuits on Eriez eddy current nonferrous metal separators have been improved, with Rare Earth Erium 3000, which the company says is five times stronger than conventional permanent magnets.
Eriez Xtreme Rare Earth Tube Circuits are also now available, which are minimally 12 percent stronger than all other magnets on the market, according to performance tests conducted by Penn State University. The new Xtreme magnet circuit is available on all Eriez tubes, grates and liquid line traps. Additionally, Eriez Pull Test Kits are also available, for monitoring the efficiency of magnetic separators by measuring the holding force of a magnet.