Portrait of a C&D facility start-up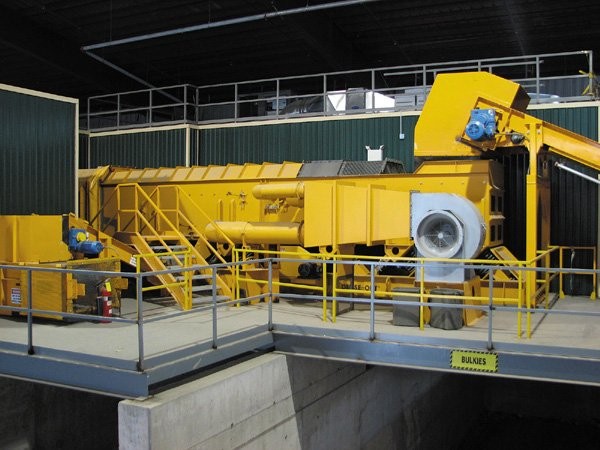 by Keith Barker
Like many recycling businesses, Countrywide Recycling Inc. began with a coming together of minds from the construction industry.
John Voortman and his business partner, Dave Burtt, owned a small construction company focused on framing and building homes in the Niagara and Hamilton areas. They had been operating the business for approximately 20 years. Joe Lopes, who was a business associate and a long-time friend of Voortman's, operated a stone slinging and excavation company. In February of 2007, Lopes asked Voortman to come to his shop, as he had something to talk about.
"I arrived at Joe's yard and entered his construction trailer at which time he dropped a Mack Truck Magazine in front of me and asked me to read an article on Shamrock Recycling," explains Voortman.
The article spoke about Shamrock Recycling using Mack trucks to haul their construction and demolition waste to its facility. It went into a large explanation about their history and processes.
"Joe then told me that he just came back from a Shamrock facility in the U.S. and I could tell he was very excited. He wanted to start up a construction and demolition recycling facility and wanted me to be a part of it."
"He told me that we could go to see another plant in the U.S., New England Recycling (NER) in Maine," continues Voortman. "He said Continental Biomass Industries (CBI), one of the companies that designed and built the equipment for Shamrock and NER could accompany us and explain everything in detail."
The two met with Tim Griffin, a salesman for CBI. They went to NER and looked at their plant and then went back to CBI's manufacturing plant in Andover, New Hampshire.
"I was blown away by the equipment and the process used in the facility," says Voortman. Voortman and Lopes then brought in Voortman's business partner, Dave Burtt, and Voortman's wife, Marie. From 2007 through 2010, Countrywide Recycling purchased land from the City of Hamilton. They went through the various processes of obtaining the required approvals from the City and the Ministry of the Environment, and commenced construction in June, 2009. In April of this year, Countrywide Recycling's approximately 65,000-square-foot facility opened its doors.
Countrywide's process
"In terms of our process, we use a Case Excavator 930B to break up and separate the bulkies (sofas, carpets, tarps, fabrics, etc.) and a CX240 to load the C&D into a hopper," explains Voortman. "The C&D then goes through an Action Direct Taper Slot Screener (shaker) which separates by size the 12-inch and minus material from the remaining material."
Voortman says the 12-inch and minus then goes through a trommel that further separates one-inch and minus, which become "fines" for landfill cover. The balance of the 12-inch and minus goes through an Air Knife Dense Out Separator, also made by Action Direct.
"This equipment separates the material by weight so that the 'heavies' (aggregates) are automatically taken onto a line and into the sorting room," explains Voortman. "Sorters then ensure that no wood, etc. are in with the heavies. Some metals may be found in the heavies and can remain on the conveyor since they will later be removed automatically by a magnet. The remaining 12-inch and minus stays on another line in the sorting room."
This second line is for material that is 12-inch and minus. Sorters will hand sort cardboard, metals, plastics and clean wood. The material is dropped down chutes and falls into concrete separated areas below. The material which is 12-inch and larger automatically remains on the conveyor and is taken back onto the first line and the sorting room.
Each and every sorter picks clean wood and one other product (ie. cardboard or metals). Once the clean wood is dropped down its chutes, it falls onto another conveyor line which automatically takes it to a CBI 3648 Grizzly Mill for grinding. Once it is ground, the material goes through a Dings Overbelt Magnet, which automatically removes all of the nails in the wood product.
"At the end of the day, our product is clean, ground wood or wood chips, perfect as an alternative fuel source for the greenhouse industry, incinerators or for mulch manufacturers," says Voortman. "The metals, cardboard, film plastics, hard plastics, etc. are dropped down chutes and fall into the same concrete separated areas as our second line. The metals, cardboard, plastics, aggregates etc. are then sold to recyclers."
Voortman says that whatever material is not picked, sorted or on the conveyor, goes into a CBI 4860 Grizzly Mill. This includes wood, small pieces of paper, plastic and cardboard. Once it is ground, the material goes through a Dings Overbelt Magnet to ensure that no metal goes into the final product. This material can then be used as biomass for waste-to-energy sites or for landfill covers.
"Once the material has been sorted and we have our product, including the wood chips, ground wood and biomass, we use our two Caterpillar 924Gs front end loaders for the purposes of loading the trucks," Voortman continues.
"We also use this equipment to move the material on the tipping floor. One of the loaders has a four yard bucket and the other has a five yard bucket with a grapple. We also have a Tire Master recycled rubber blade on each of the loaders to prolong the life of our cement floor."
Countrywide says they also use a Bobcat with grapple to load a NexGen Two Ram baler.
"We use this baler for our cardboard, film plastics and hard plastics," says Voortman. "The more we look, the more markets we find for our products. Canada is definitely finding ways to reduce, reuse and recycle."
Countrywide runs their operation six days per week, with extended weekday hours. Voortman says the longer weekday hours allow customers to work longer days during peak construction season, and that their hours are about two hours per day longer than the average hours of operation for transfer stations in the area.
"Our biggest challenges to date has been government regulations and financing," says Voortman. "Our bank has been a helpful partner in our endeavour, and we owe much thanks to them."
"Our three sorting lines can accommodate up to 68 sorters in total, and our Certificate of Approval through the Ministry of the Environment allows us to process up to 800 tonnes per day." Voortman says their CBI machines proces about 91 metric tonnes (100 US tons) per hour.
Joe Lopes, who is Countrywide's President and operations manager, oversees all operations from the plant to the scalehouse and manages their sister bin company, Canadian Recycling Carriers (CRC). The main job for David Burtt, as the plant manager, is to supervise the picking room and to assist Joe with maintenance and general operation on the floor.
Marie Voortman is the account/office manager. She oversees all of the office operations, including account set-ups, customer billings and relations, A/P, human resources, as well as compliance with Ministry of the Environment and health and safety regulations.
"I look after our sales department and oversee the inflow and outflow of material from our facility," says Voortman, who says he was also the general contractor.
"I'm happy to say that all of us have left our previous vocations, and are devoted on a full-time basis to this new and exciting endeavour."