Mobile demolition processor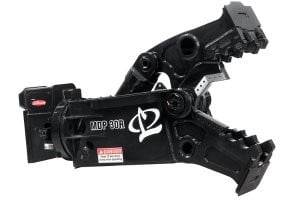 Stanley LaBounty's MDP30R mobile demolition processor features expanded application capability, including higher productivity for large raised concrete structures. The second in the MDP line, the MDP30R incorporates all of the standard MDP features, including a patent-pending quick change jaw pivot, 360-degree powered rotation, reversed cylinder, and multiple machine mount capability.
The unit's single cylinder attachment penetrates concrete with a crushing force of 160 tons, while apex angled cutting blades slice and separate rebar as pulverized material then passes through the relief area on the upper and lower jaw.
With an operating weight of 7,800 pounds, the MDP30R offers very high power-to-weight ratio, and reverse cylinder technology secures the cylinder rod in the stick body for protection from outside debris. These units reach ten feet, six inches, and a standard drive rotates 360 degrees continuously in either direction for accurate cutting and pulverizing at any angle.