Destroyer-Max drive system increases shredder/grinder throughput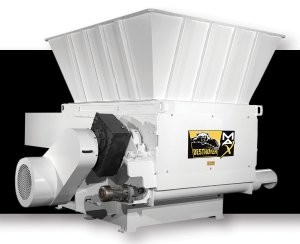 Cresswood Shredding Machinery recently introduced the new Destroyer-Max Drive System for its Destroyer line of single-shaft, low-RPM shredder/grinders. The new drive system is designed to offer commercial and municipal recycling operations increased throughput and uniform output results when processing bulky and dense materials such as paper cores, books, plastic purgings, pallets, containers, and mixed wood scrap.
"We're excited that coupled with our new 'max-rotor' design, the Destroyer-Max Drive results in an impressive increase in total throughput with significantly less horsepower," says Jack Cress, Cresswood's CEO. "It's a major leap forward for us."
Describing the new system, Mark Anderson, V.P., Engineering, says that "basically, the Destroyer-Max is a proven full-time vector drive for your main motor which enables energy-efficient performance under load, and quicker, smoother transitions – forward and reverse. Jam detection is split-second, the cutters are automatically cleared, and shredding is resumed."
The Destroyer-Max Drive is integrated into the central control panel for the shredder or grinder, providing a user-friendly interface for machine operators. It also functions with the proprietary gearbox and mount design, offering a fully-mature, robust, and durable technology that is "ready-to-ship".