Aeromaster turners offer efficiency options for composters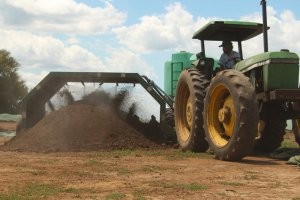 Aeromaster compost turners from Midwest Bio-Systems are designed for cost-efficiency and reliability, and now come with optional tool boxes attached. The company says these new tool boxes will keep windrow monitoring instruments handy for the operator and house the tools needed throughout the workday to make critical turner adjustments and ensure consistency in the production of compost.
Midwest Bio Systems' water tanks also now come with an optional hand washing system, providing operators with a convenient way to keep hands clean while maintaining windrows.
Aeromaster Compost Windrow Turners offer large capacity, high productivity, heavy-duty construction and advanced technology. Three pull-type models are available, ideal for sites producing from 5,000 up to 20,000 tons of finished compost per season.