Vermeer expands electric-powered horizontal grinder product line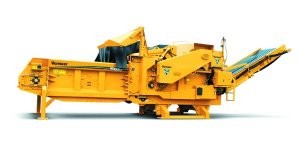 Vermeer Corporation has expanded its line of electric-powered horizontal grinders with the introduction of the HG4000E.
The HG4000E is powered by a clean-running three-phase electric motor that delivers 223.7 kW (300 hp) to the hammermill. A separate 37.3 kW (50-hp) electric motor powers the hydraulic circuits, while a 1.4 kW (1-hp) motor is dedicated to the hydraulic cooling system. Plus, units can be equipped to work with either 50 or 60 Hz power systems.
These grinders feature many of Vermeer's standard features such as a patented Duplex Drum cutting system, reversible hammers and cutter blocks, thrown object deflector, multifunction wireless remote, easy maintenance, and the Vermeer SmartGrind system which stops and reverses material from feeding into the hammermill when motor amperage draw exceeds desired value.
The feed table and feed roller on the HG4000E pulls material into the grinding chamber or reverses material away from the chamber when prompted. Operators can reverse the feed roller independently of the feed table to reposition irregular material as it enters the hammermill. Plus, feed roller hydraulic down pressure can be applied using the remote control unit, which aids in feeding difficult material sizes and shapes.
Additionally, a grinding chamber with top-loading screen allows operators to change screens easily and in less time than with side-loading screens, and a 4.3 m (14-foot-long) infeed table features a solid floor and continuous support of the infeed chain.
Company info
Related products