C&D recycler sorts by densities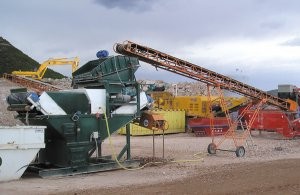 Introduced to North America at Waste Expo in 2011, the Jest Waste Recycler is designed for the separation of C&D and other waste materials by densities.
According to its Spanish-based manufacturer, Jest is the only machine of its kind that automatically sorts by screening, air separation and a floatation system, all in one unit. Jest uses low power and water and is available for fixed, mobile or semi-mobile installations. For C&D waste, Jest's fully automatic system separates dry fines, plastic and lighter material, as well as clean stones, wood and sludges.
These machines are designed to be fed material from zero to seven inches, and three models are available, as well as custom machines, with production from 30- to 90-tons per hour.